Frederico Paixao and Milo Harper, Saturday 24th February 2024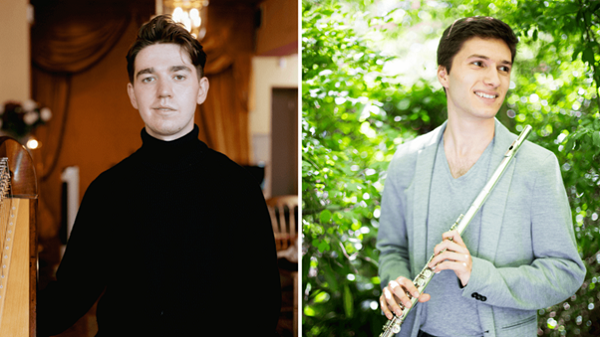 Tickets for this concert are on sale

here


Programme:
| | |
| --- | --- |
| Cras | Suite en Duo |
| Boulanger | Nocturne & Cortège |
| Debussy | Syrinx |
| Murray Schafer | Ariadne's Dream |
| Coleridge-Taylor | Deep River |
| Price | Adoration |
| Tournier | Danse du Moujik |
| Gluck | Dance of the Blessed Spirits |
| Fauré | Sicilienne from Pelléas et Mélisande |
| Grant Still | Summerland |
| Honegger | Danse de la Chèvre |
| Alwyn | Naiades Fantasy Sonata |
Supported by the Countess of Munster Musical Trust
Our fourth concert of the season brings together the flute and harp. The programme explores the symbolism of both instruments and evokes impressionistic watercolours; from Cras's sea voyages and Boulanger's starlit skies, to the mysterious mythical creatures of Debussy and Alwyn.
The flute and harp is a combination of instruments that creates a sound that is both delicate and powerful. The warm and resonant tones of the harp blend seamlessly with the clear, pure sound of the flute, creating a rich and complex musical texture. Both instruments reach back in their origins a long way to Greek antiquity and mythology and we should sense this in the music.
Milo Harper
and Frederico Paixão formed a duo while studying at the Royal Academy of Music. After Milo's return to London from his further studies in New York, they are delighted to have reconnected and to be busy with duo recitals this season. They are both successful orchestral musicians, having performed internationally with leading ensembles such as the European Union Youth Orchestra and the Philharmonia. Chamber music remains a very important aspect of their careers.
Portuguese flautist Frederico Paixão is currently on trial for Principal Flute of all three orchestras of the Birmingham, Northern, and Scottish Ballet companies, having also played Guest Principal Flute with the Philharmonia, BBC Scottish Symphony Orchestra, Scottish Opera, Royal Northern Sinfonia, Britten Sinfonia, English Chamber Orchestra, and the Orchestra del Maggio Musicale Fiorentino in Italy. Other freelancing has included the BBC Symphony, London Philharmonic, and Royal Philharmonic Orchestras, John Wilson's Sinfonia of London, English National Opera and Ballet, Opera North, and Orchestra of the Age of Enlightenment. In 2019, Frederico also took part in the London Sinfonietta Academy.
A confident soloist, Frederico's concerto appearances have included Alwyn's Concerto at the Royal Academy of Music, as well as Takemitsu's Towards the Sea II with the Bath Festival Orchestra on alto flute. On the baroque flute, Frederico has worked with the Armonico Consort and performed with Rachel Podger at the Wigmore Hall as part of the RAM Baroque Soloists.

Frederico moved to London in 2013 to study at The Purcell School. He then won a full scholarship to study at the Royal Academy of Music, where he won the Flute, Piccolo, and RAM Club Prizes. He studied with Samuel Coles, Helen Keen, Patricia Morris, Karen Jones, Katherine Baker, and Lisa Beznosiuk, and later became a Chamber Music Fellow.
Milo Harper
explores the unique history and poetic symbolism of the harp through diverse sound-worlds and narratives. He strives to challenge the standard repertoire by carefully curating and also transcribing music by both recognised and lesser-known composers, particularly those from historically underrepresented genders, queer identities, ethnicities, races and cultures.
This year, Milo is a soloist on the Munster Trust Recital Scheme and also the Harp Fellow for the Philharmonia Orchestra's MMSF scheme. He recently returned to the UK from New York City, having completed his graduate studies with Emmanuel Ceysson (Metropolitan Opera, LA Phil) at The New School's Mannes School of Music, where he was awarded the Performing Arts Scholarship. At Mannes he was also coached by renowned jazz harpist Brandee Younger as a member of the Alice Coltrane Ensemble. He completed his Bachelors at the Royal Academy of Music, where he received the D Day Fund Award and the Robert Alva Memorial Prize for outstanding achievement, having studied with Karen Vaughan (LSO) and Skaila Kanga (Abbey Road Studios). Milo's studies were sponsored by the Hattori Foundation, the Countess of Munster Musical Trust and the Royal Philharmonic Society's Julius Isserlis Scholarship.

As a soloist, Milo has won competitions including the Camac Harp Competition (2018), the North London Festival President's Prize Competition (2018) and the Royal Academy of Music's Guy Magrath Harp Prize (2019). He has also toured globally, giving solo performances at the World Harp Congress (Hong Kong, 2017) and Carnegie Hall's Weill Recital Hall (NYC, 2019) and concertos in the UK, Germany, Switzerland, Hong Kong, and Singapore. He is the harpist for LGT Young Soloists, with whom he has been featured on several albums released by Sony/RCA Red Seal Records. Previously, he was Principal Harp for the European Union Youth Orchestra (2019), a Britten-Pears Young Artist (2020), and Principal Harp for the National Youth Orchestra of Great Britain (2014). Not limited by genre, his collaborators have included various jazz groups, singer-songwriters, producers and contemporary composers.