A blending of folk and string music
An exciting, one-off musical event!
Strings Attached
was the title of an exciting and innovative musical event, or rather series of events, organised by the Amersham Concert Club and Making Music, a national organisation that has evolved from the previous National Federation of Music Societies. The event was supported by the Lottery funded Awards for All.
The idea behind the event was to have two differing groups of musicians who would perform separately and together and the interesting selection brought together a band of folk music performers from Slovakia and a classically trained trio of recently graduated pupils of the Royal College of Music.
The Slovakian group Ponitron had a three day residency at Dr. Challoner's High School and consisted of violins, viola, double bass and a group of other instruments - cimbalon, bagpipe, accordian and Slovak flutes played by the band's leader, Bernard Garaj.
The trio based in this country, Naiades, consisted of flute, Helen Manente; viola played by Nadya Larsen and harp played by Paula Popa.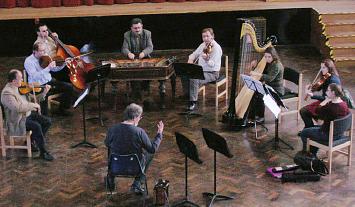 During their stay at the High School the folk band Ponitron gave master classes and workshops that culminated in an open rehearsal on Saturday afternoon with both groups, and where a new composition based on Slovak melodies and a traditional English polka Dark Girl Dressed in Blue was developed!
All this activity culminated in a public performance on Saturday evening at Dr. Challoner's High School that started with a recital by the trio. The repertoire for this combination of instruments is not large but we heard three works, all essentially from the last century. Embracing the Wind by Robert Paterson (b1970) was an interesting and atmospheric work and one it would be good to hear again. The other works were Suite Breve by Leon Rohozinski and movements from the Petite Suite by Andre Jolivet, characterised by some very French flute writing.
The second half was given by our Slovak visitors and was less cerebral and more foot tapping. A variety of folk melodies and dances some with vocal solos and some with all players singing there was plenty of variety of texture and rhythm! The band leader cames from a family of bagpipe players and lectures at the University in Nitra. He demonstrated the variety of instruments on show in an amusing and instructive manner.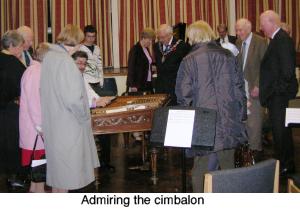 The finale was the joint performance by both ensembles where a melody of obviously slokan origin was performed by both groups of players, ingenious and great fun for audience and, I would imagine, the players!
This was a most enjoyable event and something very different. A lot of work for the organisers but it would be good to think it could be repeated or developed as an idea to spread the enjoyment of music from all backgrounds.
Bernard Pritchard
---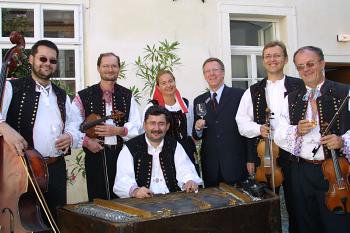 Ponitran (violins, viola, double bass, cimbalon, bagpipe, Slovak flutes and singer) will introduce and play various traditional songs and dances from Slovakia. The manager of the band is a member of the oldest bagpipe family in Slovakia, whose roots reach back to the beginning of the 19th century. He currently lectures at the Constantine the Philosopher University in Nitra. The band have played all over Europe and the US and have recorded a number of CDs.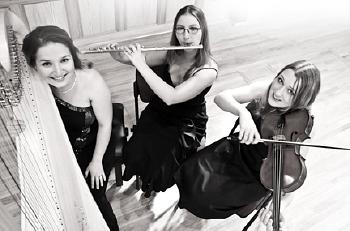 Naiades (flute, harp, viola) is a dynamic young chamber ensemble set up by three recent graduates of the Royal College of Music. Their repertoire includes works by Beethoven, Debussy, Haydn and Ravel as well as less well known pieces and some new commissions.