Alexandra Vaduva ~ piano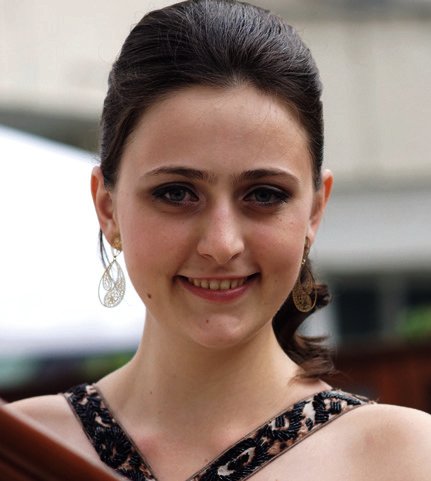 Sonata in E major K380 'Cortege'

Scarlatti 


Sonata in D minor K9 'Pastorale'
Sonata in A minor, D537

Schubert 

Suite No.1 Op.3 "Dans le style ancien"

Enescu 

Suite Op. 14

Bartok 

Choral and Carillon Nocturne from Suite No.3 Op. 18

Enescu 

Sonata No 14 in C sharp minor 'Moonlight'

Beethoven 
Our new season got off to an excellent start with a return visit from the delightful young virtuoso pianist Alexandra Vaduva. Not only is she stunningly communicative at the keyboard, but also gave a very articulate introduction to the music on her programme. Of Romanian origin herself she introduced, with enthusiasm, music by fellow-countryman George Enescu, music from two of whose Suites for Piano formed part of the programme. Another Suite by his contemporary, Bartok, introduced the second half of the recital.
Alexandra's performance began with a sparkling rendition of two Scarlatti sonatas followed by an early sonata by Schubert. The concert ended with a beautiful performance of Beethoven's "Moonlight" sonata; though a staple of the recital repertoire Alexandra brought freshness and vitality to her account especially with her exciting and joyous performance of the finale.
 

---
The Adderbury Ensemble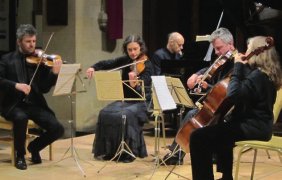 Piano Trio Op.11 in B flat major

Beethoven 

String Quartet No.17 K458 "The Hunt"

Mozart 

Piano Quintet in E flat major Op.44

Schumann 
A large and enthusiastic audience heard a wonderful evening of music by Beethoven, Mozart and Schumann at the third of Amersham Concert Club's programme of chamber music last Saturday. Introducing the music, viola player, Chris Windass, said that the three works could all be described as happy ones and what joy and energy this group of players brought to their music-making!
The programme opened with Beethoven's Piano Trio Op.11 for violin, cello and piano, an often overlooked piece which deserves to be played more often. The depth of expression the musicians produced in the Adagio was an indicator of what was to come. The trio then became a string quartet for Mozart' "Hunt" quartet, a much more familiar piece. It owes its nickname to the galloping rhythms and suggested horn calls with which it opens, but again, for me, the heart of this work was the Adagio. This was beautifully played with all four players communicating wonderfully and bringing a great intensity to the music.
After the interval, the quartet were joined by pianist, Viv McLean, who has played many times in the Amersham area, for Schumann's Piano Quintet in E flat. This is one of Schumann's finest chamber works and received a stunning performance from the Ensemble. A very long-standing member of the Club said afterwards that "it was probably the finest performance of the piece he had ever heard."
The Club's season concludes on March 23rd with a concert by Ensemble Mirage (piano, violin and clarinet) playing music based on Eastern European folk music by Khachaturian, Shostakovitch, Stravinsky, Bartok, Schoenfield and a very rarely heard piece by Poulenc "L'invitation au Chateau".
---
Ensemble Mirage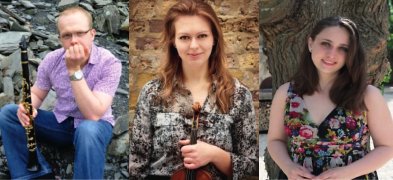 Contrasts Sz111 for clarinet, violin and piano

Bartok 

 Trio for clarinet, violin and piano

Khachaturian 

 L'invitation au Château

Poulenc 

 Suite from "The Soldier's Tale"

Stravinsky 

 5 pieces

Shostakovich (arr Atovmyan) 

 Trio for clarinet, violin and piano

Schoenfield 
Exciting, virtuoso playing by Ensemble Mirage.
If value for money at a concert was measured by the number of notes per £, then this concert would have been a standout winner! The audience at Amersham Concert Club's final concert of their 2018-19 season was dazzled by the speed and virtuosity of all three members of the ensemble in a programme of largely unfamiliar works with a shared background of Eastern European folk music.
Exciting and challenging works by Bartok and Khachaturian in the first half and by Stravinsky and Schoenfield in the second were contrasted with two more reflective works. "L'invitation au Chateau" was written by Poulenc to provide the incidental music for Jean Anoiulh's play of the same name. It is unpublished and therefore rarely heard but the Ensemble had arranged to hire the score and what a light, witty treat it proved to be. In the second half, Five Pieces by Shostakovitch included dances from "The Gadfly" and allowed the Ensemble to show a lighter, more reflective side. But it is the torrent of notes from the pianist, Alexandra Vaduva, always absolutely clear and precise but breathtakingly fast and underpinning the fireworks from the clarinet and violin, that will stick in the memory of this listener.
The support of the Countess of Munster Musical Trust for this concert is gratefully acknowledged
---