Alexander Soares
Review of concert by Alexander Soares - piano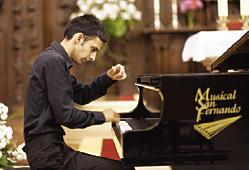 Partita No.5 in G major BWV829

JS Bach 

Children's Corner

Debussy 

Polonaise-Fantaisie Op.61

Chopin 

Benediction de Dieu dans la solitude

Liszt 

Chorale et variations

Dutilleux 
Amersham Concert Club opened its 49th season on Saturday 17th October with a recital by the brilliant young pianist Alexander Soares who won the first prize and Gold medal in the prestigious Royal Overseas League competition, earlier this year. The enthusiastic and receptive audience was treated to a performance of the highest virtuosity.
The evening began with an expert rendition of Bach's Partita no.5; according to Alexander, a work to challenge the grey cells. Children's Corner by Debussy followed. It is a most delightful and amusing musical description of nursery scenes and associations, ending with the popular, jazzy Golliwog's Cake Walk - No 'cake walk' to play it. The first half of the programme concluded with the emotionally biographical late work by Chopin, his Polonaise Fantasie.
The audience was captured by the intense atmosphere that Alexander created in his interpretation of Liszt's Benediction de Dieu dans la Solitude. He gave a dramatic and very memorable performance; sounding in parts like two pianos with a melody and accompaniment in both hands.
The culminating work was a tour de force. Chorale and Variations was written by Dutilleux in 1946 for his pianist wife. Alexander introduced this piece as musical fireworks or "Debussy after too much coffee". His performance embraced the full range of interpretive skills ranging from arresting power to the utmost delicacy. It was quite clear, as Alexander admitted afterwards, that he feels a special affinity for the French 20C composers.
 

---
The Prince Bishop Brass Quintet
Review of recital by Mike Walton, Derek Ruffell - trumpets,
Stuart Gray - trombone, Chris Senior - French horn
Stephen Boyd - tuba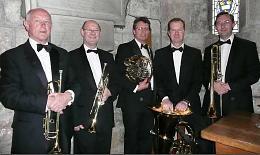 Fanfare 'La Peri'

Dukas 

 Suite in D

Jeremiah Clarke 

 Fugue in G Minor

J S Bach 

 Fancies, Toyes and Dreames

Farnaby 

 Adagio

Barber 

 Pastime with Good Company

Attributed Henry VIII 

 Santa Barbara Sonata

Bram Tovey 

 Quintet

Michael Kamen 

 3 Gershwin Pieces

Gershwin 

 Northumbrian Songs

Ray Chester 

 Four Episodes from West Side Story

Bernstein 
A fanfare of brass opened Amersham Concert Club's second concert of the season held on Saturday 7th November. The Prince Bishop Brass Quintet arrived in great good humour, despite their long journey from the North-East of England, but pleased to be fêted with fireworks along the way.
From the outset the audience was ready to relax and be entertained by an eclectic programme of music adapted to this chamber brass ensemble. All the musicians have played brass since their youth. Their joint experience includes performing and conducting many of the well known bands in the North of England as well as time spent with opera & ballet companies and some of the country's leading orchestras. Together they make it look easy to produce a rich and balanced sound in the chamber concert environment.
The programme ranged from Bach's Fugue in G minor via traditional Elizabethan airs to include a challenging transcription of the Adagio for Strings by Samuel Barber. It embraced a medley of traditional Northumbrian songs commissioned by the ensemble from big band leader Ray Chester and a short piece by Michael Kamen, better known for his wealth of film scores and avant-garde 1970's pop music. The more jazzy sounds of Gershwin's Porgy and Bess and Bernstein's West Side Story provided an upbeat finale to a thoroughly engaging concert.
 

---
Matthew Scott and Daniel King-Smith
Review of concert by Matthew Scott, clarinet, accompanied by Daniel King-Smith, piano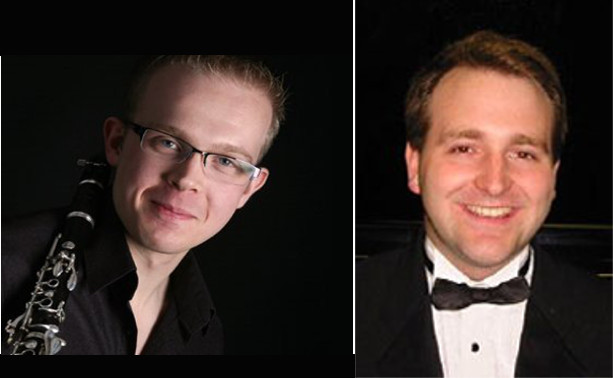 Sonatina for clarinet and piano

Horowitz 

Piece en Forme de Habanera

Ravel 

Sonata in F minor, Op.120 No.1

Brahms 

Premiere Rhapsodie

Debussy 

Sonata for clarinet and piano

Bax 

Fantasia da Concerto su motivi de 'La Traviata'

Lovreglio 
An enthusiastic audience had braved a very stormy night and they were well rewarded.
The concert opened with a Sonatina by Joseph Horowitz, professor of music at the Royal College, London. The piece was pacey, with influences from jazz and other popular music. In it Matthew showed the full range of the clarinet, playing with some lovely tone colours. A work by Ravel followed. In the form of a Habanera, its marked Spanish rhythm was slow and sultry, making for a complete change of mood. To end the first half of their concert Matthew and Daniel performed a mature work by Brahms, the sonata in F minor. Unusually for its time, this piece gives equal prominence to the two instruments. By turns sombre and dramatic then song-like and melodic, the partnership between the two musicians was beautifully expressed.
Matthew demonstrated his technical skill in a very exciting set of pieces in the second half of the evening. The Premiere Rhapsody by Debussy , originally written for a clarinet competition, was brilliantly performed. A Sonata by Bax followed. Described as being the musical equivalent of an impressionist painting, the piano and clarinet wove together through light and dark passages, ending quietly.
The evening was brought to a close with the Fantasia da Concerto su motivi de 'La Traviata' by Lovreglio. This arrangement of the familiar themes of the opera is a tour de force. In it, Verdi's wonderful melodies are underpinned by a rich and dramatic accompaniment. The piece is technically challenging and both Matthew and Daniel gave a very exciting performance which thoroughly deserved the enthusiastic applause.
Matthew is supported by the Countess of Munster Musical Trust.
 

---
Piatti String Quartet
Review of recital by Nathaniel Anderson-Frank, Michael Trainor ~ violins
David Wigram ~ viola, Jessie-Ann Richardson ~ cello
An Evening to Remember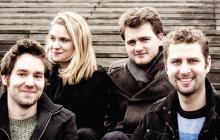 Quartet in F major

Ravel 

 Langsamersatz

Webern 

 String Quartet No.2 in A minor Op.51 No.2

Brahms 
The audience at Amersham Concert Club's recital last Saturday was treated to an evening of superb string playing by the prize-winning young Piatti Quartet. Nathaniel Anderson-Frank and Michael Trainor (violins), David Wigram (viola) and Jessie-Ann Richardson (cello) gave us a truly memorable evening.
The concert began with Ravel's Quartet in F major. Introducing the piece, David Wigram said that it had been written for a competition but had not been well-received. Fauré, to whom it was dedicated, thought it needed 'a lot of work'! But the Piatti's playing on Saturday held the audience spell-bound. The clarity and lightness of their playing had the audience holding its breath in the quiet passages. Webern's Langsammer Satz completed the first half and was a revelation to many of us, expecting something challenging and avant garde. This was a lovely, romantic piece and the Quartet brought out all the colour and depth in the short piece. The concert concluded with Brahms's Quartet No.2 in A minor and here the Piatti produced a wonderful range of sound with some superb playing.
 

---
The Rose Trio
Review of concert by Suzanne Thorn ~ Oboe, Rebecca Thorn ~ Clarinet, Tamsin Thorn ~ Bassoon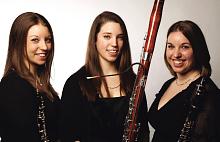 Divertimento No. 1 from K.439b ~ Mozart
Suite Pour Trio D'Anches ~ Alexandre Tansman
Pièces en Trio ~ Jacques Ibert
Variations on 'La ci darem la mano' from 'Don Giovanni' ~ Beethoven
Allegro from Grand Trio in C Op. 87 ~ Beethoven
Divertissement ~ Jean Françaix
Serenade ~ Ferenc Farkas
Walking the Dog ~ Gershwin
Amersham Concert Club ended a very successful and enjoyable season on 12th March with a lovely recital by the Rose Trio. The Thorne sisters (Suzie, oboe, Becky, clarinet and Tammy, bassoon) treated the audience to a delightful and wide-ranging programme of music for wind trio. The evening began with Mozart's Divertimento No.1 where it was hard, at times, to accept that just three instruments were playing such was the range of tone produced. Alexandre Tansman's Suite for Wind Trio was far less familiar to the audience but was beautifully played bringing out all the rhythms which Tansman, a friend of Stravinsky, made such use of.
The Trio played two pieces by Beethoven, one a set of variations on a tune from Mozart's Don Giovanni and the other part of his Grand Trio, explaining that Beethoven is thought to have composed these pieces whilst familiarising himself with the potential of wind instruments for his symphonies. The programme concluded with a lively performance of Gershwin's Walking the Dog originally intended for the 'walking the dog' sequence in the Fred Astaire and Ginger Rogers film Shall We Dance?