The Coull String Quartet
Review of concert by The Coull String Quartet
Roger Coull & Philip Gallaway violins, Rose Redgrave viola, Nicholas Roberts cello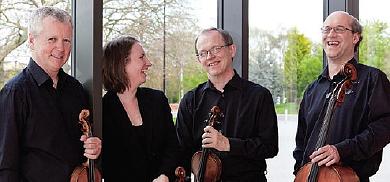 The audience for the Amersham Concert Club's recital on 1st March enjoyed a wonderful evening of music by the Coull String Quartet. This was the fifth time that The Coull Quartet had played for the Club and this is no surprise when we are given performances such as we enjoyed on Saturday.
 Quartet in C Op. 20, No.2

Haydn 

 Quartet No12 in D flat

Shostakovitch 

 Quartet No.3, in E flat minor,Op.30

Tchaikovsky 
Although Haydn had written a number of string quartets before 1772 the set of six works of Op.20 are very much a model for future works both by Haydn and other composers. Another innovation is the greater use of the cello, not just as a base for the harmony but as a melodic voice in its own right. The distinguished musicologist, Donald Tovey, thought very highly of these quartets and so it was good to hear this work played by the Coull Quartet who gave a performance that I am sure would delighted him.
The second work was a huge leap, both in time of composition and in style! Shostakovich wrote this quartet, No12, in D flat, in 1968. Dates are important as the composer was very much influenced in his symphonies and quartets by the events going on in the world and the Soviet Union. He was aware of the experimental music that had been written and made reference to 12 tone techniques in the cello at the beginning of the work - which is powerful and uncompromising. Again in this work the cello has a pivotal role, with some sumptuous passages in the long second movement. The impetus and continuity was maintained superbly by the Coull, which is no mean feat as the music has dramatic swings of mood and texture.
After the interval we heard the last of Tchaikovsky's three String Quartets. This quartet was written in memory of the leader of the quartet that premiéred the earlier compositions and so is in a reflective mood in the earlier movements but in the last movement it is back to business as ever with a rousing finish.
 

---
Four Hands, One Piano
Review of recital by pianists Anne Applin and Geoffrey Pratley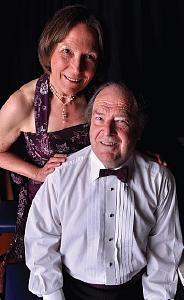 Amersham Concert Club's 47th season ended on a high note on Saturday with a sparkling performance by these distinguished duettists before an enthusiastic audience.
In times before radio, music recordings, ipods and streaming many people would have had few opportunities to hear music except in a domestic setting, and many composers wrote extensively for piano duet and frequently arranged their orchestral works for 'four hands on one piano'. Recently, the art form has fallen out of favour, but what a treat we have missed. These two musicians, wonderfully together throughout, displayed a very high level of musicianship in their wide-ranging programme which was introduced with insight and humour. It is not possible to mention every piece performed but highlights included a lovely performance of Schubert's Variations in A flat which was composed as a piano duet and encompassed a wide range of emotions.
This was followed by John Carmichael's four movement Latin American Suite which explores Latin American dance rhythms from an entrancing, relaxed Rumba to a highly syncopated, dramatic Jongo. Anne and Geoffrey gave the UK premiere of this work in 2003 and have since performed many of his pieces. Their rapport with each other and with the piece was very evident and the foot-tapping audience shared their enjoyment of it.
The second half included Ravel's 'Mother Goose Suite' with a dramatic duet between Beauty and the Beast, bird calls and oriental bell and gong effects and finished with a dramatic performance of three pieces from Rachmaninov's 'Six Morceaux'. It was hard to imagine that anything could follow the dramatic conclusion of the third piece 'Slava' but having asked the audience whether we would like a short encore or a long one, the pair launched into an arrangement of Khachaturian's 'Adagio from Spartacus'. What a way to end a wonderful evening.
The Club's 48th Season begins on Saturday 11th October with a piano recital by Paul Roberts, a renowned exponent of French piano music. Full details will be available on the Club's website www.amershamconcerts.org.uk