Saturday 15 October 2011
English Piano Trio
Review of concert by The English Piano Trio
Jane Faulkner violin, Nick Cooper cello, Timothy Ravenscroft piano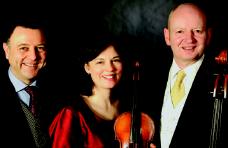 Amersham Concert Club's 2011-12 season started on the 15th October with a most enjoyable recital by the English Piano Trio which consisted of the pianist Timothy Ravenscroft, the violinist Jane Faulkner and Nick Cooper on cello.
The group has developed a seductive style suitable for the intimate concert club environment. They gave an informative introduction to each work embracing extensive contemporary writings on the subjects. The works played were Haydn's Trio in C (Hob 15:21), Beethoven's Ghost trio and Schubert's E flat trio. They delighted with a final encore of a Schubert serenade.
---
Jianing Kong
Review of concert by pianist Jianing Kong

Amersham Concert Club held their second concert of the season on Saturday 12thNovember at Dr Challoner's High School, Little Chalfont. A piano recital by Jianing Kong, a finalist in the Leeds International Piano Competition in 2008, was much enjoyed by an appreciative audience.
Jianing opened by playing a short Arabeske Op.18 by Robert Schumann and followed this with an elegant performance of Schumann's Grosse Sonata in F-sharp minor Op.11.
The second half of the evening was devoted to music by Franz Liszt. Jianing played six pieces from Annees de Pelerinage which were composed by Liszt on his travels through Europe in the 1830s. The pieces clearly portrayed the sights and sounds he was experiencing during a four year stay in Switzerland from the gentle sound of bells to a dramtic mountain storm.
Jianing concluded the evening with Liszt's Spanish Rhapsody which is one of the most technically demanding pieces in the repertoire and demonstrated the amazing virtuosity of this young pianist, resulting in enthusiastic applause.
The Club looks forward to their next concert on 4th February at 8.00pm when we can all enjoy a varied recital by Will Oinn on Oboe and Yshani Perinpanayam on Piano. This is an opportunity to hear first class professional musicians locally. New members will be very welcome and tickets for the concert are available from the website or on the door on the night.
---
Will Oinn ~ oboe, Yshani Perinpanayagam ~ piano
Review of concert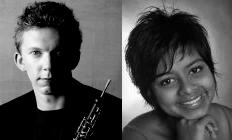 Last Saturday, despite the awful weather forecast, the concert went ahead. Those hardy individuals who made it were privileged to hear a performance of oboe and piano music that was varied and interesting, from Bach to Bozza and Saint-Saëns to Vaughan Williams.
Will Oinn and Yshani Perinpanayagam, who were sponsored by The Countess of Munster Trust, are embarking on their professional careers but demonstrated a musicianship and lyricism throughout which guarantees their success. The art of accompaniment was evident in that the piano never dominated the oboe and yet responded to all the changes in dynamic and tone involved in such a varied program. The amazing dexterity shown in the final piece by Kalliwoda meant that everyone in the audience left to brave the snow with a smile on their faces - well pleased to have made the effort.