Saturday 6 October 2007
An Evening with Elgar
Review of concert by The English Piano Trio
Jane Faulkner violin, Justin Pearson cello, Timothy Ravenscroft piano
with Neil MacTaggart violin, Morgan Goff viola David Graham narrator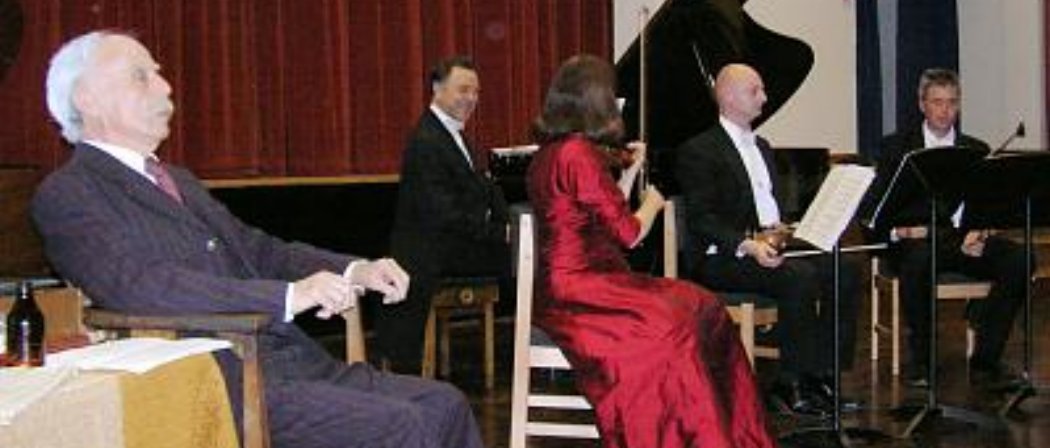 For the opening recital of their 41st Season the Amersham Concert Club presented a programme that celebrated the music of Elgar, in this, the 150th anniversary of his birth.
The concert was held at Dr.Challoner's High School and was given by the English Piano Trio - Jane Faulkner violin, Justin Pearson cello and Timothy Ravenscroft piano who were joined by Neil McTaggart violin, Morgan Goff viola and David Graham narrator, who played the part of the elderly composer reflecting on his life, his lost friends and the lack of appreciation that had been accorded his music. The likeness was quite uncanny, resembling the photograph of Elgar on the cover of Diana McVeagh's recent book.
The music we heard included a number of the salon pieces and excerpts from the marvellous piano quintet. There is so little Elgar chamber music but there were two pieces played that I had not heard before: a piece for piano solo "Smyrna"and an evocative piece for viola and piano titled "In Moonlight". Although there were a number of excerpts from the Piano Quintet I was disappointed that the myths and legends surrounding "The Spanish Trees" were not explored because they do give an insight into the turmoil of the composer's mind, contrasting with the outside appearance of an Edwardian gentleman.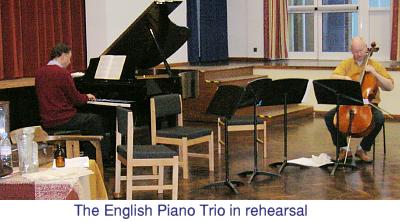 We also heard part of the cello concerto, accompanied by the piano and viola and "Nimrod" arranged, very successfully for string quartet.
This concert has been given all over the country and has proved very popular. Certainly the large audience in Little Chalfont enjoyed this "concert with a difference".