Alexandra Vaduva ~ piano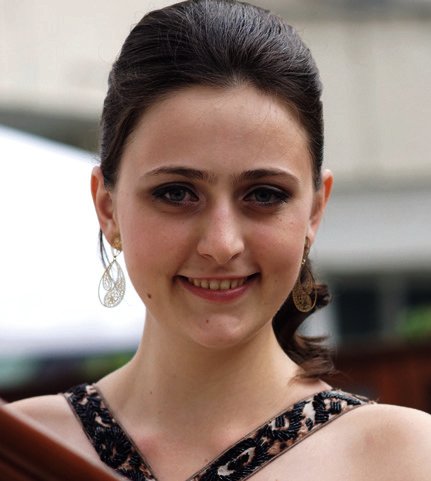 Sonata in E major K380 'Cortege'

Scarlatti 


Sonata in D minor K9 'Pastorale'
Sonata in A minor, D537

Schubert 

Suite No.1 Op.3 "Dans le style ancien"

Enescu 

Suite Op. 14

Bartok 

Choral and Carillon Nocturne from Suite No.3 Op. 18

Enescu 

Sonata No 14 in C sharp minor 'Moonlight'

Beethoven 
Alexandra delighted our audiences when she appeared here in 2017 with Ugne Tiskute. This year she opens our season with a lovely, varied programme, and closes it when she returns as part of Ensemble Mirage.
---
Jonathan Radford ~ saxophone
Kaoli Ono ~ piano
"Tour de Sax"
An evening of wonderful music which will take the audience around the world, and time travelling from early music to the present day, with both transcribed music and pieces composed for the saxophone.

Rapsodie for alto saxophone and piano

DEBUSSY Claude (1862-1918) 

Chaconne in G minor

VITALI Tomaso (1663-1745)


arr. for soprano saxophone and piano
Vocalise op.34 no.14

 RACHMANINOV Sergei (1873-1943)


arr. for alto saxophone and piano
Violin Sonata No.1 Op.8

 GRIEG Edvard (1843-1907)


arr. for soprano saxophone and piano
Suite Espñola Op.47

 ALBENIZ Isaac (1860-1909)


arr. for saxophone and piano
Moustik for solo alto saxophone

 VIVANCOS Bernat (1973-)

Histoire du Tango

 PIAZZOLLA Astor (1921-1992)


arr. for soprano saxophone and piano
Bordel 1900, Café 1930, Nightclub 1960, Concert d'Aujourd'hui
Rhapsody in Blue

 GERSHWIN George (1898-1937) 


arr. for soprano, alto and tenor saxophones and piano
Kindly supported by Making Music's Philip & Dorothy Green Award for Young Concert Artists scheme. Jonathan is also a YCAT finalist for 2018.
---
The Adderbury Ensemble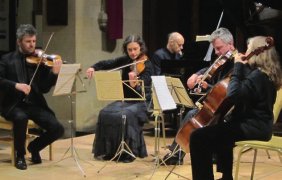 Piano Trio Op.11 in B flat major

Beethoven 

String Quartet No.17 K458 "The Hunt"

Mozart 

Piano Quintet in E flat major Op.44

Schumann 
Viv McLean and Martyn Jackson have both given wonderful recitals for the Club in the past and we look forward to hearing them in this Ensemble playing three great works from the chamber music repertoire. The Ensemble's programme features three great chamber music works.
The bright and boisterous "Hunt" quartet is one of the works that led Haydn to say that Mozart "was the greatest composer he had known" whilst the Piano Quintet is regarded as one of Schumann's finest works and one which changed the format for ever.
---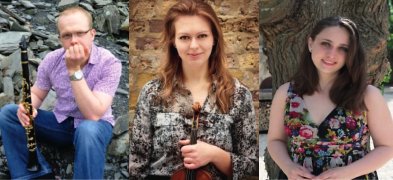 Ensemble Mirage
 Contrasts Sz111 for clarinet, violin and piano

Bartok 

 Trio for clarinet, violin and piano

Khachaturian 

 L'invitation au Château

Poulenc 

 Suite from "The Soldier's Tale"

Stravinsky 

 5 pieces

Shostakovich (arr Atovmyan) 

 Trio for clarinet, violin and piano

Schoenfield 
We are delighted to welcome back three young musicians whose individual performances at the club have been greatly enjoyed. As a Trio, their programme is based largely on Eastern European folk music including exciting works by Bartok and Khachaturian. Poulenc's Suite of Incidental Music for Jean Anouilh's play "L'Invitation au Château" is a rarely performed (because unpublished) piece and this is a great chance to hear it.
The support of the Countess of Munster Musical Trust for this concert is gratefully acknowledged
---