Our Concerts 2016-2017
Music on Saturdays at 8.00 pm
except for 25th March at 7.00 pm
performed at Dr Challoners High School for Girls,
Cokes Lane, Little Chalfont, Bucks
HOME | MEMBERS | TICKETS | VENUE | CONTACT | CONCERT REVIEWS / ARCHIVE | LATEST NEWS
Each year we organise five concerts of high quality performances, mainly of chamber music, by both established and rising professional musicians. The concerts are an opportunity to hear current and future stars playing live, locally in a less formal atmosphere. Our 50th Anniversary Season begins in October with:
Saturday 8th October 2016 at 8:00 pm
Gala Concert with cake and sparkling wine


Divertimenti
Paul Barritt, Rachel Isserlis - violins
Jonathan Barritt - viola
Sebastian Comberti, Josephine Horder - cellos
Fantasia in F minor K594 ~ Mozart
String Quintet in C major (arranged Lauterbach) ~ Boccherini
String Quintet in C major D956 ~ Schubert
Divertimenti has become widely acclaimed as one of the most exciting and innovative British chamber groups of its generation. Four of the players in this outstanding ensemble were founder members at its inception in 1978. All five are top ranking players with a wealth of world wide concert experience between them, as soloists and orchestral principals as well as chamber music players. Long standing friends, they share an evergreen love of music making, and a passion for the rich sonorities of the string ensemble repertoire.
"Divertimenti give a brilliant, highly committed performance." Gramophone
"Exquisite chamber music... warm and expressive performances." BBC Record Review
"The playing by Divertimenti is superb. They bring much warmth and colour to this excellent disc and give an excellent account of two very beautiful pieces of British music." MusicWeb International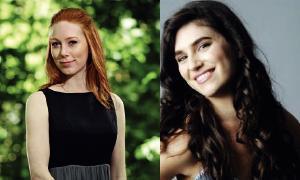 Saturday 29th October 2016 at 8.00pm
Amy Green ~ saxophone
Christine Zerafa ~ piano
Divertimento ~ Roger Boutry
Concerto in D minor ~ Alessandro Marcello
Pièce en forme de Habanera ~ Maurice Ravel
Six Studies in English Folk Songs ~ Ralph Vaughan Williams
Scaramouche ~ Darius Milhaud
Rhapsodie ~ Claude Debussy
Tableaux de Provence ~ Paule Maurice
Sonata Op 29 ~ Robert Muczynski
The Devil's Rag ~ Jean Matitia
As well as her flourishing solo career, Amy Green is a talented chamber and orchestral musician, performing with the Royal Liverpool Philharmonic Orchestra in the Royal Albert Hall and Suzhou, China, also with the Birmingham Royal Ballet, the Royal Philharmonic Orchestra and the Philharmonia. In 2014, she graduated with Distinction from her Masters at the Royal College of Music (RCM), London, having gained her Bachelor of Music with First Class Honours there two years earlier.
Amy was honoured to be awarded the prestigious Tagore Gold Medal and in 2014 was the first saxophonist ever to win the Edward and Helen Hague Senior Woodwind Prize at the Royal College of Music. She is delighted to be selected as a Park Lane Group Artist 2015/16 and to have been awarded the Making Music Philip and Dorothy Green Award for Young Concert Artists 2015, under which scheme she appears here.
Maltese pianist Christine Zerafa has appeared in various venues including the Royal Festival Hall and Wigmore Hall and has received several awards including the RNCM Clifton Helliwell Prize, the RAM Scott Huxley Prize and Eric Brough Award. She is also a Park Lane Group and Tunnell Trust Artist.
Christine gained a MMus in solo performance at the Royal Northern College of Music with Norma Fisher and later studied with Andrea Lucchesini at the Scuola di Musica di Fiesole in Florence.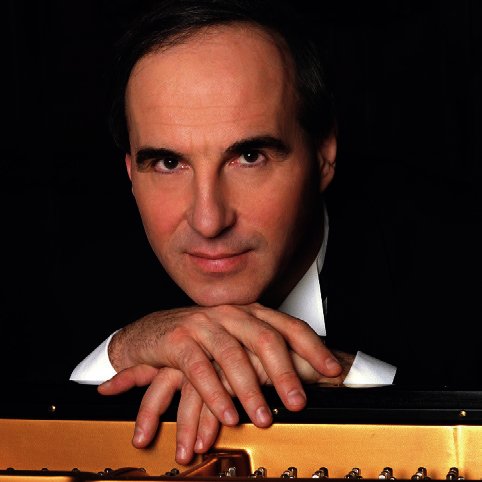 Saturday 19th November 2016 at 8.00pm
Alexander Ardakov ~ piano
Melodie, Elegie, Ten Preludes Polichinelle ~ Rachmaninov
Etudes and Ballades ~ Chopin
Alexander Ardakov is a graduate of the Moscow Conservatoire and a prizewinner at the Viotti International competition in Italy. His move to England has allowed him to pursue a double career of teaching and performance. His role as Professor of Piano at Trinity Laban Conservatoire of Music & Dance has not prevented him from developing into an exceptional recitalist of versatility and musical integrity.
Among his notable radio recordings are those for BBC Radio 3 and Classic FM. He feels at home not only with the Russian classics but also with the composers of the romantic period such as Chopin, Liszt and Schumann.
Alexander's extensive discography includes Rachmaninov's Second Piano Concerto with the Royal Philharmonic Orchestra conducted by Sir Alexander Gibson. Further CD recordings are planned.

"Alexander's audiences are never left indifferent, they are swept up in the sensitivity, intensity and passion of his playing that takes them on a journey from the most tender and intimate perceptions to the dramatic peaks of life's greatest moments. Each meeting with him is a virtuoso performance that leaves the hearer emotionally sated yet still thirsty for more." Daryl Hardman
Saturday 25th February 2017 at 8.00pm
Ugne Tiskute ~ viola   Alexandra Vaduva ~ piano
Sonata in F minor for viola and piano ~ Brahms
Prelude (1st cello suite, viola version) in G major ~ J S Bach
Fantasy for viola and piano ~ Bowen
Kinderszenen op.15 for piano ~ Schumann
Sonata for viola and piano ~ Rebecca Clarke
Ugne Tiskute - young and vibrant Lithuanian born violist - is a winner of various international competitions and major awards and has established herself as a widely renowned musician.
Ugne has performed as a soloist and chamber musician across Europe and China. She has also appeared as a guest conductor and soloist at the International Avanti Festival, Kaunas. Recently Ugne was invited to perform and talk at the BBC 3 Radio In Tune programme.
Romanian-born pianist Alexandra Vaduva started playing the piano at the age of 4 with the teacher Doina Olteteanu. Since then she has won numerous national and international piano competitions, whilst maintaining a busy concert schedule. Alexandra has recently performed Stravinsky's Piano Concerto with the Royal Academy of Music Wind Orchestra conducted by Keith Bragg and the Petrushka ballet suite conducted by Thierry Fischer.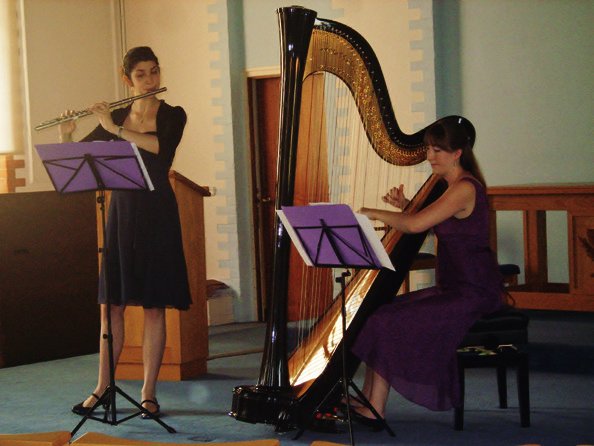 Saturday 25th March 2017 at 7.00 pm
(please note earlier start time)


Acacia Flute and Harp Duo
Samantha Pearce ~ flute
Heather Wrighton ~ harp
Classical Moments
Programme includes Sonatas by Bach and Donizetti, pieces by Faure, Debussy and Piazzola, some less familiar composers and concludes with Borne's dramatic Carmen Fantasie.
Samantha Pearce was born in Kent and studied at the North East of Scotland Music School in Aberdeen with David Nicholson. She is currently a professional freelance flautist performing in chamber and orchestral concerts around the country. Samantha has given a solo recital at the Royal Festival Hall and enjoyed performing with many of the UK's finest orchestras including BBC Philharmonic Orchestra, BBC National Orchestra of Wales, City of Birmingham Symphony Orchestra, Scottish Opera and the Orchestra of the Age of Enlightenment. She is also a member of the Live Music Now scheme and a keen Baroque flute player.
Heather Wrighton was inspired to play the harp at the age of six and as a junior student at Trinity College of Music she studied harp with Gabriella Dall'Olio and Frances Kelly and continued her studies at The Royal Academy of Music, London with Karen Vaughan. Heather currently freelances as a soloist, orchestral and chamber musician which has led her to perform at prestigious concert venues including The Royal Festival Hall, Cardiff Millennium Centre, Royal Opera House, Cadogan Hall, St John's, Smith Square, Kings College Chapel, Cambridge, Glyndebourne, Kensington and St James's Palaces. From a young age Heather has been interested in different types of harps and in addition to the Classical Harp she plays Celtic, Baroque triple and Paraguayan Harps.
"Each piece was a delight with such sparkling performances. What fantastic musicians they are." Professor John Lord

"Full of variety and very entertaining, coupled with superb music-making." Roger Broadbent
This concert is followed by our Anniversary Supper. Two courses plus wine or soft drink for £15. Tickets only available from the Box Office.
Opera and Concert Trips:
Most years we try to arrange one or more coach trip to see an opera or concert. Door to door service from Amersham Community Centre Car Park to the venue, typically leaving around 5:00pm. A chance to see a high class production or symphony concert at reduced price through block booking.
This year, a group saw the Welsh National Opera perform Rossini's Barber of Seville in Milton Keynes. Our concert trips to the Royal Festival Hall and the Barbican in April 2016 are fully booked. Our next opera trip will be to hear the Glyndebourne Touring Opera perform Puccini's Madame Butterfly in Milton Keynes on 9 November 2016. Full details from the Box Office.
 

We reserve the right to substitute artists and switch venues as required by circumstances outside our control.