Our Concerts 2015-2016
Music on Saturdays at 8.00 pm
performed at Dr Challoners High School for Girls,
Cokes Lane, Little Chalfont, Bucks
HOME | MEMBERS | TICKETS | VENUE | CONTACT | CONCERT REVIEWS / ARCHIVE
Each year we organise five concerts of high quality performances, mainly of chamber music, by both established and rising professional musicians. The concerts are an opportunity to hear current and future stars playing live, locally in a less formal atmosphere. Our 49th season begins in October with: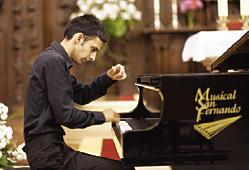 Saturday 17th October 2015 at 8:00 pm
Alexander Soares - piano
Partita No.5 in G major BWV829 ~ JS Bach
Children's Corner ~ Debussy
Polonaise-Fantaisie Op.61 ~ Chopin
Benediction de Dieu dans la solitude ~ Liszt
Chorale et variations ~ Dutilleux
London-born pianist Alexander Soares is increasingly in demand as a soloist. He has performed across the United Kingdom in such venues as the Royal Festival Hall and Purcell Room, Southbank Centre, Barbican Centre, Wigmore Hall, Bridgewater Hall, Manchester, and has also performed in major venues across France and Spain.
In 2010, Alexander became a Park Lane Group Young Artist, under whose auspices he gave his debut solo recitals at both the Purcell Room and the Wigmore Hall. He has won numerous awards including Guildhall's Beethoven Prize, prizes in the Brant International Piano Competition and the Beethoven Piano Society of Europe competition, a Countess of Munster award, a Musicians Benevolent Fund Postgraduate Performance Award and an AHRC scholarship.
He is currently studying with Ronan O'Hora on the Doctoral programme at Guildhall School of Music.
Alexander is Making Music Young Concert Artist (2014) and their support for this concert is gratefully acknowledged.
"Diamond clarity and authority" Sean Rafferty, BBC Radio 3
"An exciting new prospect ~ Soares, a London based pianist of extraordinary technical skill and phenomenal memory." Rick Jones, Words and Music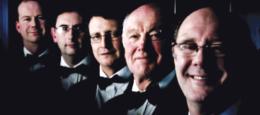 Saturday 7th November 2015 at 8:00 pm
The Prince Bishop Brass Quintet
Mike Walton, Derek Ruffell - trumpets,
Stuart Gray - trombone, Chris Senior - French horn
Stephen Boyd - tuba
Fanfare 'La Peri' ~ Dukas
Suite in D ~ Jeremiah Clarke
Fugue in G Minor ~ J S Bach
Fancies, Toyes and Dreames ~ Farnaby
Adagio ~ Barber
Pastime with Good Company ~ Attributed Henry VIII
Santa Barbara Sonata ~ Bram Tovey
Quintet ~ Michael Kamen
3 Gershwin Pieces ~ Gershwin
Northumbrian Songs ~ Ray Chester
Four Episodes from West Side Story ~ Bernstein
Prince Bishops Brass Ensemble was formed by a group of brass playing friends who would meet each other whilst playing at various locations around the North of England. The line up of instruments is 2 Trumpets (doubling Flugel Horn, Eb and Piccolo Trumpet) French Horn, Trombone and Tuba.
Prince Bishops Brass Ensemble has amassed an enormous repertoire of music, from Renaissance Brass Music through Baroque and Classical to upbeat jazz and swing arrangements.
The group are committed performers and strongly believe that live music should be exciting and entertaining. A concert by Prince Bishops Brass takes you on a tour of all musical styles from Baroque to Big Band with everything in between and can transport you across the oceans to other continents to experience the music of France or Spain or perhaps even further afield.

"A devoted and inspirational ensemble who never fail to entertain and inspire. Their collective talent and expertise ensure that you'll be engrossed in a vast array of musical genres and styles" Rob O'Neill, Principal Bass Trombone BBC Symphony Orchestra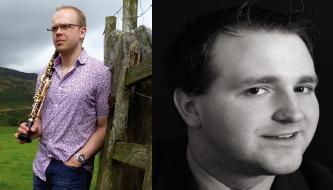 Saturday 28th November 2015 at 8.00pm
Matthew Scott ~ clarinet
Daniel King-Smith ~ piano
Sonatina for clarinet and piano ~ Horowitz
Piece en Forme de Habanera ~ Ravel
Sonata in F minor, Op.120 No.1 ~ Brahms
Premiere Rhapsodie ~ Debussy
Sonata for clarinet and piano ~ Bax
Fantasia da Concerto su motivi de 'La Traviata' ~ Lovreglio
Matthew says of the programme for this concert: The Brahms and Debussy are both big core pieces from the repertoire. Most people will recognise the Ravel (done on all instruments!) and themes from La Traviata in the Lovreglio. The Horovitz and Bax are 2 very different English clarinet pieces; the Horovitz more jazzy and the Bax more harmonically complex.
Matthew is a post-graduate student at the Royal Academy of Music, after graduating from there with first class honours. He currently holds awards from both the Countess of Munster Musical Trust (whose support for this concert is much appreciated) and from Making Music's Young Concert Artists scheme. He was a recent finalist at the Royal Overseas League's Competition. Matthew has performed with various Academy ensembles under many distinguished conductors and is now building a career as a soloist. He has given recitals at the Wigmore Hall, Queen Elizabeth Hall and other London venues and has performed for music clubs.
Daniel King-Smith has given concerts all over the world as both soloist and accompanist. He studied at the Royal Academy of Music where he won the Harold Craxton and Max Pirani prizes for Chamber Music and others for his all-round musical ability. Accompaniment and chamber music are major parts of Daniel's life and he is currently staff accompanist at the Royal College of Music Junior Department and at the Purcell School in which role he has performed for Prince Charles and at the Wigmore Hall. He has given recitals all over the world with Michael Collins, Carmel Kaine, Susan Milan, Robert Max, Stefano Canuti, Yuki Ito, and Anna Hashimoto, among many others.
Daniel has performed on BBC Radio 3 and BBC Radio Ulster, and appeared in the televised finals of BBC Young Musician of the Year 1996 as soloist and regularly since then as accompanist.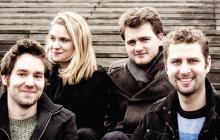 Saturday 27th February 2016 at 8.00pm
The Piatti Quartet
Nathaniel Anderson-Frank, Michael Trainor ~ violins
David Wigram ~ viola,
Jessie-Ann Richardson ~ cello
Quartet in F major ~ Ravel
Langsamersatz ~ Webern
String Quartet No.2 in A minor Op.51 No.2 ~ Brahms
"Throughout the entire evening the performance from the members of the Piatti Quartet was spellbinding." Herts Advertiser, June 2014
"..in Dvorak's G major Quartet, Opus 106... It was a joy to witness the visual communication the quartet displayed with each other... if I had to single out one movement for praise, it would be the slow Adagio, in which the quartet's glowing tone filled the entire gallery. The exciting finale was delivered with great panache. What a great start to the season." Russell Dawson, Bournemouth Echo, Nov 2014
The Piatti is amongst the UK's foremost young string quartets, with a host of awards and critically-acclaimed recordings to their name. The Quartet has performed in all the major venues around the country, including a live BBC Radio 3 broadcast from the Wigmore Hall. It has also appeared in Italy, Australia, Spain, Austria, Ireland, France, Switzerland and Holland.
The Piatti is a winner of the St Martin in the Fields Competition, a Martin Musical Fund/Philharmonia Scholarship, multiple Hattori Foundation awards, and the St.Peter's Prize.
The Quartet spent two years as Leverhulme Fellows at the Royal Academy of Music and has received both Tunnel Trust and Countess of Munster awards. Park Lane Group have also supported the group extensively with a UK-wide concert tour and a recording on their Classical Label. Other recordings have been released on the Linn Records and Champs Hill labels, including the Piatti's lauded contribution to the Champs Hill recording of the complete string quartet works of Felix Mendelssohn, which was BBC Music Magazine's Critic's Choice (September 2014).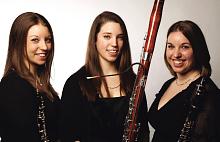 Saturday 12th March 2016 at 8.00 pm
The Rose Trio
Suzanne Thorn ~ Oboe
Rebecca Thorn ~ Clarinet
Tamsin Thorn ~ Bassoon
Divertimento No. 1 from K.439b ~ Mozart
Suite Pour Trio D'Anches ~ Alexandre Tansman
Pièces en Trio ~ Jacques Ibert
Variations on 'La ci darem la mano' from 'Don Giovanni' ~ Beethoven
Allegro from Grand Trio in C Op. 87 ~ Beethoven
Divertissement ~ Jean Françaix
Serenade ~ Ferenc Farkas
Walking the Dog ~ Gershwin
Sisters Becky, Suzie and Tammy have been making music together since Tammy, the youngest, was just 5 years old. All former members of the National Youth Orchestra of Great Britain, they started to seriously explore the mixed reed trio repertoire, performing as The Rose Trio, in 2006 when they were all studying in London.
The trio were the winners of the Ensemble Prize at the Royal Over-Seas League Competition in 2010. They were also invited to take part in the Countess of Munster Recital Scheme and now have a busy concert schedule ahead which will take them to Music Clubs all over the UK.
The sisters regularly collaborate with other young wind players and pianists to form chamber music groups of varying sizes. Recent performances have included the Poulenc Trio for Oboe, Bassoon and Piano and the Mozart Quintet for Piano and Winds.
"The blend of sound was a joy... a gem to close a fine season." Haywards Heath Music Society
Opera Trip: Most years we try to arrange a coach trip to see an opera. Door to door service from Amersham Community Centre Car Park to the theatre, typically leaving around 5:00pm. A chance to see a high class production at reduced price through block booking.
 
Concerts at the Barbican or South Bank Centre: Following the success of the Opera trips we have established a tradition of going to a major London venue, typically the Barbican or the Royal Festival Hall for an orchestral concert on a scale we cannot accommodate in our own season.
We reserve the right to substitute artists and switch venues as required by circumstances outside our control.