Our Concerts 2014-2015
Music on Saturdays at 8.00 pm
(except 28 March 2015 which starts at 7.30 pm)
performed at Dr Challoners High School for Girls,
Cokes Lane, Little Chalfont, Bucks
HOME | MEMBERS | TICKETS | VENUE | CONTACT | CONCERT REVIEWS / ARCHIVE
Each year we organise five concerts of high quality performances, mainly of chamber music, by both established and rising professional musicians. The concerts are an opportunity to hear current and future stars playing live, locally in a less formal atmosphere. Our 48th season begins in October with: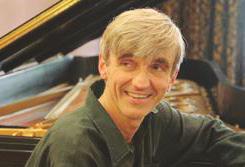 Saturday 11th October 2014 at 8:00 pm
Paul Roberts - piano
Cross Currents of Impressionism: a programme of Impressionist piano works deriving from the descriptive music of Liszt.
Works by Liszt, Debussy, Ravel, Granados and Albeniz
Paul Roberts is known internationally as a leading exponent of French piano music. His Reflections: The Piano Music of Maurice Ravel was published by Amadeus Press in America and in the UK in April 2012. Reflections joins two acclaimed books on Debussy: a biography, Debussy (Phaidon) and Images: The Piano Music of Claude Debussy (Amadeus), which has become a seminal text on the subject. Paul Roberts has recorded CDs of the music of Debussy, a DVD lecture-recital (for Amadeus), Mists, Fairies and Fireworks on Debussy's Preludes, and lectures for television, from the keyboard, of La Mer and Ravel's Bolero, which have been seen all over the world.
In London he has made frequent appearances at the Wigmore Hall and has recorded for the BBC. He is an Honorary Fellow of the Guildhall School of Music, where he is a professor of piano. In France he is the Artistic Director of the international piano summer school for pianists, Music at Ambialet.
"His sensitive approach to the sublime music of Debussy and Ravel, and his illuminating explanations of the relationship between the two composers and their music, were utterly fascinating... Roberts seems to give each piece precisely the perspective it wants, with particular emphasis on expressivity and clarity. It was easily one of the best recitals I've seen this year, and I could have listened for another hour." Brett Campbell, Oregon Arts Watch

Saturday 8th November 2014 at 8:00 pm
The Dante Quartet
Krysia Osostowicz and Oscar Perks - violins,
Yuko Inoue - viola, Richard Jenkinson - cello
Quartet in D major, Op 64 No.5 'The Lark' ~ Haydn
Quartet No.2 in D ~ Kodaly
Quartet in D minor D810 'Death and the Maiden' ~ Schubert
Winner of the prestigious Royal Philharmonic Society Award for chamber music in 2007, the Dante Quartet is known for its imaginative programming and the emotional intensity of its performances. The group was founded in 1995 at the International Musicians Seminar at Prussia Cove, Cornwall, and chose the name of Dante to reflect the idea of a great and challenging journey.
The Dante Quartet plays at major concert halls, music societies and festivals throughout the UK and in the past few years has appeared at the Bury St Edmunds, Buxton, Cheltenham, Newbury Spring, Presteigne and Three Choirs Festivals as well as Wigmore Hall and Kings Place in London. The Quartet broadcasts regularly on BBC Radio 3 and has also performed in France, Germany, the Netherlands, Spain, Switzerland, Poland and Finland.
In 2008 the Dante Quartet's Hyperion recording of Franck and Fauré's string quartets attracted unanimous praise and was honoured with a BBC Music Magazine Award in the UK and a Diapason d'Or in France. The Quartet's second recording for Hyperion, of Debussy and Ravel's string quartets, also attracted enthusiastic reviews. The quartet's most recent CD of the string quartets of Kodaly has been chosen as the Chamber Choice in the BBC Music Magazine in March 2014.

"These four players are an alchemist's dream; they turn every note into a nugget of gold, whether tackling the elaborate textures of Rubbra, the energy of Shostakovich or the reflective quality of Schubert." Oxford Times

"These incandescent readings bring a wealth of interpretative insight... performances to be relished again and again." BBC Music Magazine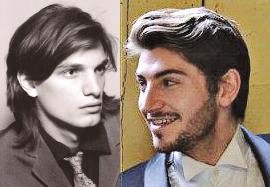 Saturday 7th February 2015 at 8.00pm
Martyn Jackson ~ violin, Alison Rhind ~ piano
Revised Programme for Saturday, 7th February
Sonata in G major, K379 ~ Mozart
Sonata in G minor ~ Debussy
Romanian Folk Dances ~ Bartok
Interval
Sonata in E minor ~ Elgar
Caprice d'après l'Etude
en forme de Valse de Saint-Saens ~ Ysaye
Apology from Martyn Jackson and Petr Limonov.
Regrettably, Petr is ill and unable to perform this concert. Consequently, Martyn has been able to arrange for a wonderful substitute accompanist, Alison Rhind. She is a wonderful pianist and has performed a lot with Nicola Benedetti. Alison and Martyn have performed countless times during the Countess of Munster Sponsorship Scheme, last year, and will perform works they have played before and know very well.
Martyn will introduce the works.
Martyn Jackson was born in 1988 and has performed both as a solo artist and chamber musician throughout the UK, much of Europe and the Middle East. In 2012 he made his recital debut at the South Bank's Purcell Room as part of the Marin Musical Scholarship Fund's Prizewinners Recital Scheme. He is also a Concordia Foundation Artist.
Petr Limonov was born in Moscow in 1984 and started playing the piano at the age of 5. After winning the First prize at the Nikolai Rubinstein piano competition in Paris (1998) he started giving concerts in Europe, Russia and Japan, sponsored by the Vladimir Spivakov International Foundation.
Petr's notable appearances include the Great Hall of Moscow Conservatory, Wigmore Hall, Purcell Room, Cadogan Hall, St Martin-in-the-Fields, a recital in Duke's Hall in presence of HRH Prince Charles, broadcasts for "Culture" television channel in Russia and BBC Radio 3.
Petr Limonov is also a rising young conductor and in June 2014, conducted Nicola Benedetti with the London International Chamber Orchestra at the King's Church in Amersham.

"Violinist Martyn Jackson's opening statement in Beethoven's Kreutzer Sonata was grand and dramatic and matched by pianist Petr Limonov's response.
That's the way to start a concert "with a bombshell" Chris Robins, Huddersfield Music Society
This concert is presented in conjunction with the Countess of Munster Musical Trust, whose continued support is much appreciated.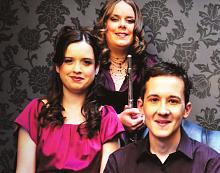 Saturday 7th March 2015 at 8.00pm
Sterling Trio
Sarah Atter ~ Flute
Thomas Verity ~ Clarinet
Lauren Hibberd ~ Piano
Tarantella Op.6 ~ Saint-Saens
Trio Sonata No.1 in C major ~ Gluck
Invocation ~ Howard Blake
Grand Fantasia ~ Sir Malcolm Arnold
"The Sterling Trio impressed and delighted with their musicianship, adventurous programming and presentation" Leicester Mercury

"One of the most relaxed, nicely introduced and skillfully played performances for SASRA Music & Arts in recent years" SASRA Music and Arts, Egremont
The Sterling Trio was formed at the Royal Northern College of Music in 2006, and has since established itself as an exciting, innovative and engaging chamber ensemble. Selected artists for the 2013-14 Making Music Concert Promoters' Group Brochure, Finalists in the Tunnell Trust Music Club Awards Scheme 2011-12, finalists and performers in the Park Lane Group Young Artists Concerts New Year Series 2012, shortlisted for site specific exhibition at the Royal Opera House 2010 and finalists with UK Young Artists 2010, the Trio pride themselves on a creative and versatile approach to music-making, striving for the highest standard of performance both as musicians and communicators.
The Trio is passionate about raising the profile and expanding the repertoire for their instrumental combination, with commissions forming an important part of their work. Their commitment to new music has recently seen the Trio collaborate with several composers, including Howard Blake OBE, probably best known for his music for "The Snowman"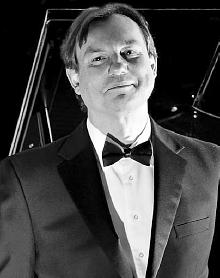 Saturday 28th March 2015 at 7.30 pm
Please note earlier start time
Peter Medhurst ~ lecture recital
Songs and Arias by Mozart and his Contemporaries
Music including arias from The Magic Flute, Das Veilchen, Abendempfindung, Five Early Minuets, as well as music by Haydn and Thomas Linley Jr.
"Medhurst has a unique and powerful bass sound ..." BBC Magazine
"The idea is striking and handsomely sung..." Music Week
"Extremely good historically and musically..." Arts Programme, Radio 4
"Exquisite singing throughout. His voice has a natural richness which he uses with consummate musical skill, and which is always focused so that every word is crystal clear" Margaret Campbell
Peter Medhurst's work as singer, pianist and lecturer-recitalist has taken him all over the world, and in the last few years he has toured New Zealand, Australia (twice) and South Africa (four times), and made frequent tours in Europe, giving performances in Berlin, Hamburg, Vienna, Salzburg, Brussels, Antwerp, Amsterdam, Paris and Spain. Closer to home, he has presented events at the Barbican, St John's Smith Square, and the Royal Festival Hall on Beethoven String Quartets, Mozart Operas, Vermeer's Music Lesson, The Twelve Days of Christmas, The Golden Age of Vienna, and 18th Century Venetian Art and Music. He has also directed presentations at the Wallace Collection, the National Gallery, the National Portrait Gallery and the V&A, linking the visual arts with the world of 17th & 18th century music making.
He is a familiar face to audiences of music societies, regional theatres and British festivals (Henley, Isle of Man, Rye, Amersham, Stevenage, Chichester, Leith Hill, The Three Choirs etc) as well as to those of arts based organisations such as The Art Fund, The National Trust and NADFAS. On the radio, his appearances include Classic FM's Susanna Simons' Show, Radio 3's In Tune, Radio 4's Arts Programme, and Midweek with Libby Purves. His recordings include For Two to Play, Schubert Songs, Handel and His Satellites and a recently released CD of 16th and 17th century keyboard music entitled Tyme at the Virginalls. A recording of 19th and 20th century English songs is about to be released.
This concert is followed by the Club's Biennial End of Season Supper.
Tickets for the Supper are available separately and can be ordered from the Box Office, price £15.
Opera at Milton Keynes: Most years we try to arrange a coach trip to Milton Keynes to see an opera. Door to door service from Amersham Community Centre Car Park to The Milton Keynes Theatre, typically leaving around 5:00pm. A chance to see a high class production at reduced price through block booking.
 
Concerts at the Barbican or South Bank Centre: Following the success of the Opera trips we have established a tradition of going to a major London venue, typically the Barbican or the Royal Festival Hall for an orchestral concert on a scale we cannot accommodate in our own season.
We reserve the right to substitute artists and switch venues as required by circumstances outside our control.