Our Concerts 2013-2014
Music on Saturdays at 8.00 pm
performed at Dr Challoners High School for Girls,
Cokes Lane, Little Chalfont, Bucks
HOME | MEMBERS | TICKETS | VENUE | CONTACT | ARCHIVE
Each year we organise five concerts of high quality performances, mainly of chamber music, by both established and rising professional musicians. The concerts are an opportunity to hear current and future stars playing live, locally in a less formal atmosphere. Our 47th season begins in October with: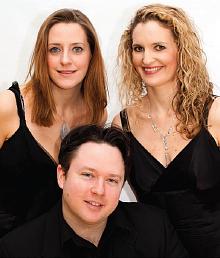 Saturday 19th October 2013 at 8:00 pm
Aquinas Piano Trio
Ruth Rogers ~ Violin, Katherine Jenkinson ~ Cello,
Martin Cousin ~ Piano
Haydn ~ Piano Trio No.25 in G major
Mendelssohn ~ Piano Trio No.1 in D minor, Op.49
Beethoven ~ Piano Trio No.7 in B flat major 'Archduke'
The Aquinas Piano Trio was launched in 2009 and has quickly become one of Britain's most sought-after ensembles. All three players are established solo artists in their own right (Martin gave a recital for the club last year) and have vast experience of the chamber music repertoire. Between them, they have an outstanding array of awards and achievements and have performed at such prestigious venues as the Wigmore Hall, the Royal Albert Hall, South Bank Centre, Barbican Hall and Bridgewater Hall, Manchester. They are all major prize-winners from a number of important competitions, have performed with the country's leading orchestras and played chamber music throughout the globe.
"The trio played as though possessing a single heartbeat, each seamlessly and effortlessly developing the full range of emotions woven within the composition. Indeed, during the second movement, such was the look of intensity on the faces of our string players it would not have surprised me to see tears trickling down their cheeks. This was an evening of sublime music and it's impossible to ask for more than that." Trevor Ekins, Grimsby Telegraph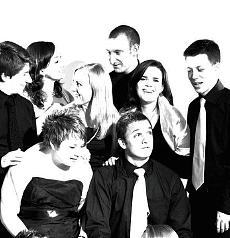 Saturday 23rd November 2013 at 8.00 pm
The Blossom Street Choir
Down by the Sea
Blossom Street present selected repertoire from their latest Naxos CD, a collection of a cappella choral folk songs with a particular focus on the nautical, released in 2013. The programme explores and celebrates the folk tradition; alongside beloved favourites by Vaughan Williams, a proud proponent of folk repertory, feature little known gems by Grainger and Holst, as well as a number of brand new works by both established and emerging composers.
Interspersed with this are works from 'Sleep, Holy Babe', a compilation of lullabies old and new.
Blossom Street is a versatile ensemble of young professional singers, which performs regularly on TV and radio as well as on the concert platform. Directed by Hilary Campbell, the group was formed in 2003, while the singers were undergraduates at the University of York, and relocated to London in 2007. Projects this year have included trips to Sweden and Spain, performances at the Edinburgh Fringe, regular broadcasts on Radio 4 and corporate, concert and festival work.
On the concert platform, the group has performed at many of the major London venues including Wigmore Hall, St John's Smith Square and St James Piccadilly, and further afield at places like the Royal Palace, Madrid. Their CD, 'Sleep, Holy Babe', was released in November 2011, tracks from which featured on Radio 3's 'The Choir' and on Classic FM. They have performed on Radio 3's 'In Tune', and their disc was announced as 'Christmas CD of the Year 2011' on David Mellor's New CD Show, Classic FM and received several 5* reviews.
"Perfection is rare but... the 'Blossom Street' choir ...came very, very close... The unaccompanied programme was wide ranging - songs from the 16th to the 21st century, from Mexico to Russia were all presented with sheer professionalism and beauty of sound. ... the blend and ensemble were perfect, the balance across the whole range from deepest bass to top soprano just right... Hilary Campbell is in complete control of every aspect. Her conducting was brilliant, both hands communicating tempo and phrasing, dynamics and interpretation in a wonderful way. ... Everything about this evening was a delight." Harold Mead, Milverton Review, December 2012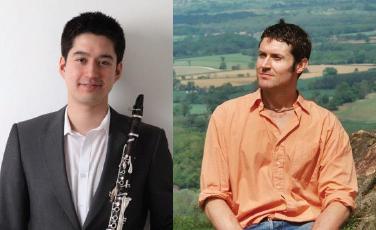 Saturday 8th February 2014 at 8.00pm
Kimon Parry ~ clarinet, Tony Ingham ~ piano
Weiner ~ Peregi Verbunk Op.40
Francaix ~ Tema con variazioni
Brahms ~ Sonata in E flat Op.120
Penderecki ~ Three Minatures
Weber ~ Grand Duo Concertante Op.48
The programme of this exciting young duo includes two of the greatest pieces for clarinet and piano, together with some less familiar works. Kimon Parry is a young clarinettist of considerable promise whose recent successes include winning the 2011 Clarinet and Saxophone Society Solo Clarinet Competition and reaching the 2012 finals of the Woodwind section of the Royal Overseas League competition. He has played with a number of major orchestras.
Tony Ingham enjoys a varied musical career of accompanying and coaching strings, woodwind and voice. He works regularly as piano accompanist for the RCM junior department and has worked as official accompanist for the orchestra of St Martin in the Fields, the Royal College of Music, Trinity, London College of Music and the Purcell School. He has performed at the Wigmore Hall, Purcell Room and St Martin in the Fields and has also given many solo piano lecture recitals for Princess Cruises.
This concert is presented in conjunction with the Countess of Munster Musical Trust, whose continued support is much appreciated.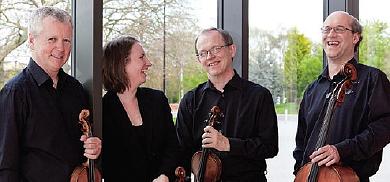 Saturday 1st March 2014 at 8.00pm
The Coull String Quartet
Roger Coull & Philip Gallaway ~ violins, Rose Redgrave ~ viola,
Nicholas Roberts ~ cello
Haydn ~ Quartet in C Op.20 No.2
Shostakovitch ~ Quartet No.12 in D flat
Tchaikovsky ~ Quartet No.3 in E flat minor Op.30
"Here the playing is so brim-full with enthusiasm and commitment, and at the same time so infused with the accumulated wisdom of three decades, that the music simply reinvents itself as it should" - The Strad
Founded in 1974, and Quartet-in-Residence at the University of Warwick since 1977, the Coull Quartet has performed and broadcast extensively throughout the UK, the USA and Western Europe, and has also toured China, India, the Far East, South America and Australia. The Quartet has appeared at most of the major music societies and festivals in the UK, and gives an annual series of recitals at the renowned Warwick Arts Centre, where it is actively involved in the University of Warwick's flourishing musical life.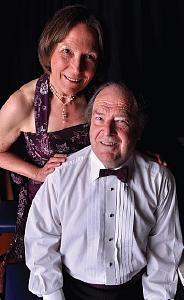 Saturday 22nd March 2014 at 8.00 pm
Piano Duet ~ one piano, four hands:
Anne Applin and Geoffrey Pratley
Schubert ~ Variations in A flat
Schumann ~ Piano Quartet Op.47 (slow movt) (arr Clara Schumann)
John Carmichael ~ Latin American Suite
John Ireland ~ Prelude - The Forgotten Rite (arr by the composer)
Ravel ~ Mother Goose Suite
Rachmaninov ~ Six Pieces Op.11
A distinguished duo partnership since 1990, Anne and Geoffrey bring to the art form a wealth of experience in accompanying, chamber ensembles and teaching as well as broadcasting and publishing books of their arrangements for piano duet. In 2002 they met the Australian composer John Carmichael and have since given the UK premières of most of his works for piano duet, including the world première of his Concierto Folklorico for piano duet and string orchestra in November 2011.
"...a rare display of expertise and refinement" - ISM Music Journal
"...the rapport between these artistes was a revelation" - West Somerset Free Press
"...the concert was breath-taking and magical ...brought the music truly alive, so it could be heard in all its fresh and glorious colour" - audience comment
"a recital full of variety and skill ...a startling performance ...the four hands never lost their rapport ...I seem to have run out of superlatives ...they never lower their standards" - Shropshire Star
Opera at Milton Keynes: Every year we try to arrange a coach trip to Milton Keynes to see an opera (usually one performed by the Glyndebourne Touring Company). Door to door service from Amersham Community Centre Car Park to The Milton Keynes Theatre, typically leaving around 5:00pm. A high class production at reduced price through block booking.
 
Concerts at the Barbican or South Bank Centre. Following the success of the Opera trip we have established a tradition of going to a major London venue, typically the Barbican or Royal Festival Hall for an orchestral concert on a scale we cannot accommodate in our own season.
The Club may, occasionally, need to vary artists, programmes or the venue, due to circumstances beyond the Club's control and reserves the right to do this. Details of any changes will be publicised on the website and locally, as far as possible.
HOME | MEMBERSHIP | TICKETS | VENUE | CONTACT | ARCHIVE