PROGRAMME for Concerts 2012-2013
Music on Saturdays at 8.00 pm
performed at Dr Challoners High School for Girls, Cokes Lane, Little Chalfont
HOME | MEMBERS | TICKETS | VENUE | CONTACT | ARCHIVE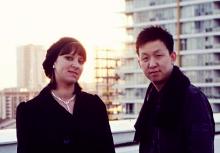 Saturday 20th October 2012 at 8:00 pm
Y-squared
Yelian He - cello, Yasmin Rowe - piano
Chopin ~ Introduction and Polonaise Brilliante
Beethoven ~ Sonata in F
Bridge ~ Berceuse, serenade
Vocalise ~ Rachmaninov
Sonata for cello and piano ~ Shostakovitch
Both these players studied at the Royal Northern College of Music where they had distinguished studentships. They were both developing separate careers before meeting at a Masterclass in 2008 with the renowned cellist Ralph Kirshbaum. Noted for their creative programming, Y-squared performs a wide variety of repertoire.
They won the String section of the Royal Overseas League Competition in 2009. In 2010, their debut at St Martin-in-the-Fields resulted in a standing ovation.
Yelian He and Yasmin Rowe are Philip & Dorothy Green Award Artists and are presented under Making Music's Awards for Young Concert Artists Scheme.
"The performance... was a shining example of superb intonation from both artists, fully attentive to the syncopated passages in the jocular second movement, and the grace and fullness of the relaxed finale, where a vociferous middle section really pinpoints their technical aplomb. They came through the composer's 'test piece of exactness' with flying colours." Music & Vision (mvdaily.com)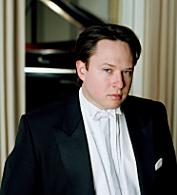 Saturday 24th November 2012 at 8.00 pm
Martin Cousin - piano
Beethoven ~ Sonata in E flat, Op.7
Brahms ~ Drei Intermezzi, Op.117
Rachmaninov ~ Sonata No.1, in F sharp minor, Op.28
Martin Cousin last played for us in 2000 and it is very good to welcome him back to perform for us. He is now regarded as one of the most exceptional pianists of his generation, having been awarded 1st Prize at the 2005 Ettore Pozzoli International Piano Competition (Seregno, Italy) and Gold Medal at the 2003 Royal Overseas League Music Competition (London).
Martin has appeared regularly in the major British musical venues since graduating from the Royal College of Music, making his London solo debut at the Purcell Room in 1998. Numerous solo recitals followed, notably at the Wigmore Hall in 2001 and 2005. He has performed as concerto soloist with the London Philharmonic, Halle, Royal Philharmonic, Philharmonia and BBC Concert Orchestras. Performances further afield have included tours of New Zealand, the US, Italy and concerts in Stockholm, Brussels, Toronto, Tokyo, Berne and The Hague.
Martin also worked as a hand double on the Oscar winning film "Shine" in scenes using Rachmaninov's 3rd Piano Concerto.
His CD of the Rachmaninov Sonata we are to hear received universal critical acclaim.
"Martin Cousin... a master in the art of the tapered phrase, the dying fall and the precisely weighted texture" The Times
"Martin Cousin's debut disc establishes a striking new benchmark for the interpretation of Rachmaninov's First Piano Sonata... His has discretion, judgment, perception and formidable technique" The Daily Telegraph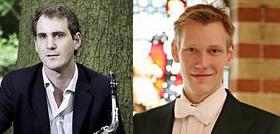 Saturday 9th February 2013 at 8.00pm
Huw Wiggin ~ saxophone, James Sherlock ~ piano
The programme includes:
Franck ~ Sonata in A major
Bernstein ~ West Side Story Suite (arr. Andrew Brinsford)
Borne ~ Carmen Fantasy
and pieces by Monti, Gershwin, Milhaud, Debussy and Liszt
Huw studied at Cheethams School of Music and then the Royal Northern School of Music, had a period of study in Germany and is now at the Royal College of Music. He has performed as a soloist throughout the UK. He lives in London and has appeared at the Purcell Room, St. James' Piccadilly, St.Margaret's Westminster and with the Park Lane Group. He has won a number of competitions and is a Philip & Dorothy Green Award Artist.
James Sherlock performs throughout the UK as a soloist, chamber musician and accompanist. He is a winner of the Royal Overseas League Keyboard prize and in 2011 was selected for the Making Music Young Artist Scheme.
This concert is presented in conjunction with the Countess of Munster Musical Trust, whose continued support is much appreciated.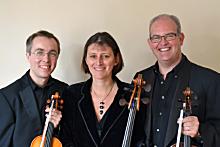 Saturday 2nd March 2013 at 8.00pm
Florin
Charles Mutter ~ violin, Alastair Scahill ~ viola,
Catherine Rimmer ~ cello
String Trio Op.9 No.1 ~ Beethoven
Serenade ~ Dohnanyi
Divertimento K563 ~ Mozart
"The qualities necessary for really good chamber music playing this group has in abundance. The sense of ensemble and of balance is beyond criticism, their phrasing is elegant and immaculate and they have developed a beautifully nurtured overall sound." - Hugh Wood
The trio that appears at our concert is the heart of an ensemble that performs a wide range of chamber music, from the core repertoire to that for larger ensembles, in collaboration with distinguished guest artists. Its members have strong Chamber music backgrounds and lead diverse professional lives elsewhere. Charles is associate leader of the BBC Concert Orchestra, Alastair is a leading freelance viola player and Catherine a guest continuo player with leading "period" orchestras.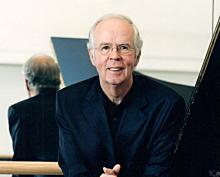 Saturday 23rd March 2013 at 7.30 pm
Philip Gammon
Music and Reminiscence
Philip Gammon talks about his long career with the Royal Ballet and plays some of the music he performed as a soloist.
He studied piano with Harold Craxton at the Royal Academy of Music, where he was awarded the MacFarren Gold Medal, and with Yvonne Loriod in Germany.
In 1964 he joined the Royal Ballet, as a rehearsal pianist. He went on to work with Sir Frederick Ashton and Sir Kenneth Macmillan and became the soloist in many of their ballets including Elite Syncopations, A Month in the Country, Rhapsody, Winter Dreams, The Concert, Marguerite and Armand and Dances at a Gathering.
He was made a Fellow of the Royal Academy of Music in 2002, retired from the Royal Ballet in 2005 and is now a guest pianist. A recent performance at the Royal Opera House was in Winter Dreams. Philip has also conducted for English National and Hong Kong ballets, National Ballet of Portugal and the Royal Ballet, including the US premiere of The Prince of the Pagodas in1991.
The recital is followed by the Club's Biennial Supper.
Opera at Milton Keynes: Every year we try to arrange a coach trip to Milton Keynes to see an opera (usually one performed by the Glyndebourne Touring Company). Door to door service from Amersham Community Centre Car Park to The Milton Keynes Theatre, typically leaving around 5:00pm. A high class production at reduced price through block booking. This season's trip will be to hear Dvorak's 'Rusalka' on 28 November.
 
Concerts at the Barbican or South Bank Centre. Following the success of the Opera trip we have established a tradition of going to a major London venue, typically the Barbican or Royal Festival Hall for an orchestral concert on a scale we cannot accommodate in our own season.
The Club may, occasionally, need to vary artists, programmes or the venue, due to circumstances beyond the Club's control and reserves the right to do this. Details of any changes will be publicised on the website and locally, as far as possible.