PROGRAMME for Concerts 2011-2012
Music on Saturdays at 8.00 pm
performed at Dr Challoners High School for Girls, Cokes Lane, Little Chalfont
HOME | MEMBERS | TICKETS | VENUE | CONTACT | ARCHIVE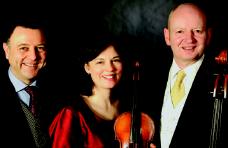 Saturday 15th October 2011 at 8:00 pm
The English Piano Trio
Jane Faulkner - violin, Timothy Ravenscroft - cello, Justin Pearson - piano
Haydn ~ Trio in C Hob.XV:21
Beethoven ~ Trio in D Op.70 No.1 "Ghost"
Schubert ~ Trio in E flat Op.100
We enjoyed an evening of words and music by the English Piano Trio a few years ago. This time we are to hear a recital of music from the first part of the 19th century with works by three of the giants of that era.
This concert is dedicated to the memory of Clive Morley, the Club's Membership Secretary and Box Office Manager. He was a generous supporter of the Club who, sadly, died in February.
"The EPT was a real delight. The players showed how well attuned they were to each other. The violin and cello together drew deeply felt melodic lines which were caressed by the pianist's delicate touch." Mainzer Rheinzeitung
"The English Piano Trio bring these works to life... the silky, delicate wending of the final allegro showed all three in their element, achieving a finely crafted ensemble." The Strad

Saturday 12th November 2011 at 8.00 pm
Jianing Kong
Schumann ~ Arabeske op.18
Schumann ~ Sonata in F sharp Minor op.11
**Interval**
Liszt ~ Six pieces from Années de Pèlerinage, First year, Switzerland, S.160:
~ Chapelle de Guillaume Tell *William Tell's Chapel*
~ Au bord d'une source *Beside a Stream*
~ Orage *Storm*
~ Églogue *Eclogue*
~ Le mal du pays *Homesickness*
~ Les cloches de Genève. Nocturne *The Bells of Geneva, Nocturne.*
Liszt ~ Spanish Rhapsody
Jianing Kong played for us last year and was very well received. It is almost without precedent for us to present an artist in consecutive seasons but he returns by popular request, with a very different, but equally attractive programme. Jianing was a finalist in the Leeds International Piano Competition in 2008 and is a post graduate student of the Royal College of Music.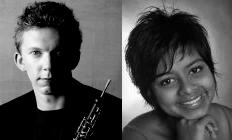 Saturday 4th February 2012 at 8.00pm
Will Oinn ~ oboe, Yshani Perinpanayagam ~ piano
Bozza ~ Fantaisie Pastorale
Schumann ~ Three Romances
Debussy ~ Bruyeres from Prelude Bk. 2
Vaughan Williams ~ Folk Songs
Saint-Saëns ~ Sonata for Oboe and Piano
Poulenc ~ Sonata for Oboe and Piano
Rubbra ~ Sonata in C Minor
Bach ~ Sonata in G
Kalliwoda ~ Morceau De Salon
Will has performed in many recitals including concerts in the Royal Festival Hall, Queen Elizabeth Hall, Purcell Room in the Southbank Centre, and Sala Argenta in Santander. He is co-principal oboe with the Symphony Orchestra of India. As a soloist, chamber musician and orchestral pianist, Yshani has performed at venues including the Wigmore Hall, the Purcell Room, LSO St. Luke's and the Amsterdam Concertgebouw. She is a 2011 Park Lane Artist and also works with opera and ballet companies.
This concert is presented in conjunction with the Countess of Munster Musical Trust, whose continued support is much appreciated.
Saturday 25th February 2012 at 8.00pm
Duo Dorado - "Angels and Devils"
Hazel Brooks ~ violin, David Pollock ~ harpsichord
"...enthusiastic presentation of such a varied programme and the high standard of performance on beautiful instruments was sheer delight" - Shipston Music Society
"The mesmerising sounds of the harpsichord and baroque violin blended together in exquisite harmonies. The evening was truly a delight." - Chichester Observer
Programmes by the duo have been praised for their varied and colourful textures; they mix great composers such as Bach, Handel and Vivaldi with other rare treats, producing a varied and colourful range of sound-textures. Their programme for us includes works by Corelli, Handel, Scarlatti and concludes with Tartini's "Devil's Trill" Sonata.

Spoken introductions bring to life the musical and historical context of each piece and form an important part of their concerts. Duo Dorado performances are also visually interesting. Their beautifully decorated harpsichord forms a stunning centrepiece making each concert a feast for the eyes as well as the ears.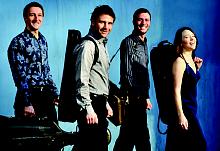 Saturday 31st MARCH 2012 at 8.00 pm
Heath String Quartet
Oliver Heath and Cerys Jones - violins, Gary Pomeroy - viola, Christopher Murray - cello
Mendelssohn ~ Quartet in E flat major, Op. 12
Janacek ~ Quartet No. 2 "Intimate Letters"
Schumann ~ Quartet No. 3 in A Op. 41 No. 3
"The Heath Quartet displayed a rare musicality... A keen interpretative insight combined with refined playing, this is one of the most interesting young quartets I have heard in recent years." - The Strad
"... the music's potency and bravura were conveyed with thrilling conviction." - The Guardian
Formed 10 years ago at the Royal Northern College of Music the Heath Quartet is rapidly emerging as an exciting and original voice on the international chamber music scene. They have been successful at many European Festivals and competitions and are promoted by the Young Concert Artists Trust.
Engagements this season include return visits to Wigmore Hall (as part of the Emerging Talent scheme supported by the Mayfield Valley Arts Trust), recitals at the Concertgebouw (Amsterdam), Musikverein (Vienna), Vara Konserthus (Sweden); Schwetzinger and Kissinger Winterzauber Festivals in Germany and BBC Radio 3 broadcasts from Birmingham Town Hall and Bath Festival.
Opera at Milton Keynes: Every year we try to arrange a coach trip to Milton Keynes to see an opera (usually one performed by the Glyndebourne Touring Company). Door to door service from Amersham Community Centre Car Park to The Milton Keynes Theatre, typically leaving around 5:00pm. A high class production at reduced price through block booking
 
Concerts at the Barbican or South Bank Centre. Following the success of the Opera trip we have established a tradition of going to a major London venue, typically the Barbican or Royal Festival Hall for an orchestral concert on a scale we cannot accommodate in our own season.
The Club may, occasionally, need to vary artists, programmes or the venue, due to circumstances beyond the Club's control and reserves the right to do this. Details of any changes will be publicised on the website and locally, as far as possible.