PROGRAMME for Concerts 2010-2011
Music on Saturdays at 8.00 pm (26th March 7.30pm)
performed at Dr Challoners High School for Girls, Cokes Lane, Little Chalfont
HOME | MEMBERSHIP | TICKETS | VENUE | CONTACT | ARCHIVE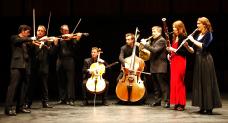 Saturday 2nd October 2010 at 8:00 pm
London Concertante Buy tickets
Strauss ~ Till Eulenspiegel einmal anders!
Francaix ~ Octet
Schubert ~ Octet for String Quintet, Clarinet, Bassoon, Horn
We started our 2008 season with a visit by the London Concertante who played a programme that included Schubert's String Quintet and it is a great pleasure to welcome them again to perform a programme centred on another of Schubert's chamber music masterpieces.
The music by Strauss is an arranged and shorter version of the orchestral Symphonic Poem with a similar name!
"Heady stuff ... thrilling virtuoso playing. Exciting listening" Musicweb International
"Quality musicians. Quite excellent...pursuing each new pulse with the unanimity of a shoal of fish. (They) play with tone as soft as velvet, bow strokes that really sing and a Romanticist's wide volume range." Evening Standard

Saturday 20th November 2010 at 8.00 pm
Leeds International Piano Competition Finalist
Jianing Kong
Haydn ~ Sonata in A flat major, Hob XVI:46
Beethoven ~ Sonata in C major, Op.111
Chopin ~ Barcarolle, Op.60
Chopin ~ Four Mazurkas, Op.59
Chopin ~ Polonaise-Fantasy, Op.61
"Since 1961, The Leeds International Pianoforte Competition has been a prestigious cultural event, celebrating and inspiring pianistic excellence and world-class musicianship."
Almost from its inception, the Amersham Concert Club has supported this internationally recognised event by offering one of the finalists an engagement. In the past we have heard many great pianists give memorable recitals; this lovely programme should be another such evening. Jianing is a postgraduate student at the Royal College of Music and a former student of the Purcell School.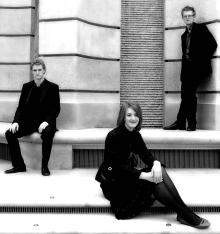 Saturday 5th February 2011 at 8.00pm
Trio Anima - Flute, Harp and Viola Buy tickets
Bax ~ Elegaic Trio
Debussy ~ Syrinx for solo flute
Jean Cras ~ Duo for flute and harp
Harald Genzmer ~ Trio for flute, harp and viola
Paul Benhaim ~ Chamber Music
Britten ~ Lacrimae for viola and harp
Ravel ~ Sonatine
Debussy ~ Sonate for flute, harp and viola
"Exquisitely crafted performance...The rapport between the group was tangible yet discreet- nothing was overdone and all was in the service of the music." - Eric Crees, Principal Trombonist, ROH
"This ensemble should have a very distinguished career ahead of them, and I look forward to many further chances of hearing them." - Richard Stagg, British Flute Society
The Trio Anima were finalists in the Royal Overseas League Ensembles Competition in 2007 and won first prize in the Camac Harp Chamber Ensemble Competition. They have enjoyed a Residency at Aldeburgh and continue to expand their repertoire joining with members of the Nash Ensemble and the Belcea Quartet. This concert is presented in conjunction with the Countess of Munster Musical Trust, whose continuing support is much appreciated.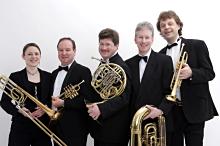 Saturday 5th March 2011 at 8.00pm
Chaconne Brass
Horn, Trombone, Trumpets, Tuba, Baroque violin Buy tickets
Richard Baker ~ Keck
Boyce ~ Symphony No 1
Henry Eccles ~ Horn Sonata in G minor
Andreas Peer Kähler ~ Maria - Ein Trypticon
Malcolm Arnold ~ Quintet for Brass
Holmboe ~ Quintet No 1 Op 79
Torbjörn Hultmark ~ An Iberian Draft (after Rodrigo's Concierto de Aranjuez)
Mark Kesel ~ Nachna
Schneebiegel ~ Der Kellermeister ~ tuba solo
Handel ~ Hornpipe from Water Music
Trad ~ Just a Closer Walk
"...Versatility oozes from these guys, their repertoire is outstanding, don't let it be said a piece of music, any piece of music can't be played by brass because believe me it can! ...We should not run the risk of missing such talent or expanding our own horizons." "...Give it a try. After all you may like it!"
"...A truly spectacular evening. Brass is beautiful!" - BBC Lincolnshire
This ensemble was formed in 1984 and has established a reputation as one of Britain's most versatile ensembles. Its repertoire ranges from Praetorius to Steve Reich and from Gershwin to Miles Davis. A combination of entertainment, creativity and excellence has allowed Chaconne Brass to develop a totally unique style that appeals to audiences of all ages and backgrounds. In addition to extensive touring with Chaconne, members of the ensemble work as guest Principals and soloists, teach and compose. Two of the works in tonight's programme have been written by members of the ensemble.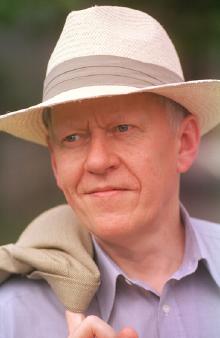 Saturday 26th MARCH 2011 at 7.30 pm
Philip Fowke - 'The Art of Encore'
".......that co-existence of a high musical intellect with elegance, wit and unashamedly joyful showmanship, marks out Philip Fowke among his own generation of pianists...." - The Times
It is a number of years since our President gave a recital for us. This time he has chosen to present a programme of pieces associated with the great pianists of the past including Paderewski, Moiseiwitsch, Rubinstein, Horowitz and Eileen Joyce, in what promises to be a most enjoyable evening.
The recital will be followed by the end of season Supper that we hold every two years.
Opera at Milton Keynes: Every year we try to arrange a coach trip to Milton Keynes to see one of the Glyndebourne Touring Opera performances. Door to door service from Amersham Community Centre Car Park to The Milton Keynes Theatre, typically leaving around 5:00pm. A high class production at reduced price through block booking
 
Concerts at the Barbican or South Bank Centre Following the success of the Opera trip we have established a tradition of going to a major London venue for an orchestral concert. There is no substitute for live performance at full volume !
The Club may, occasionally, need to vary artists, programmes or the venue, due to circumstances beyond the Club's control and reserves the right to do this. Details of any changes will be publicised on the website and locally, as far as possible.