PROGRAMME for Concerts 2009-2010
Music on Saturdays at 8.00 pm
performed at Dr Challoners High School for Girls, Cokes Lane, Little Chalfont
HOME | MEMBERSHIP | TICKETS | VENUE | CONTACT | ARCHIVE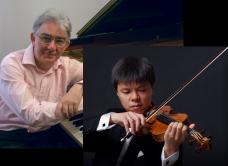 Saturday 17th October 2009 at 8:00 pm
Leland Chen / John Lenehan
Kreisler/de Falla ~ Danse Espagnole
Beethoven ~ Sonata in A major, Op.47 "Kreutzer Sonata"
Kreisler ~ Syncopation
Brahms ~ Sonata in G major, Op. 78
Leland Chen has continually distinguished himself as an exciting presence in the musical world. Boris Schwartz wrote about that performance
"his musical versatility was so impressive he seemed to master every style from Bach to Bartok. His technique is impeccable, his tone warm and sensuous his musicianship serious and probing"
John Lenehan's performances as a soloist , recitalist and duo partner have been acclaimed throughout the world. During a performing career of 25 years he has recorded more than 50 CDs and is active as a composer and arranger.
"Chen and Lenehan have all the necessary qualities: technical confidence and panache, the ability to play with uninhibited expression, yet showing proper respect for the text of the music" Gramophone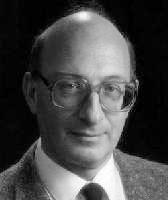 Saturday 7th November 2009 at 8.00 pm
Jonathan Hinden Mozart's Cosi: A Comic Opera
Jonathan Hinden has been a teacher and coach for many years with the Glyndebourne Opera and elsewhere. He is a frequent lecturer on operatic subjects for music and other cultural societies. At the piano he can illuminate opera in a way which is entertainment rather than education. He brings insight and humour to his subjects and we are delighted to welcome him back to talk about Mozart's opera "Cosi Fan Tutte". We hope to arrange a coach trip to hear the opera at Milton Keynes later in November.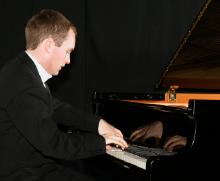 Saturday 21 November 2009 at 8.00pm
Simon Callaghan - piano
Mendelssohn ~ Song without words
Sterndale Bennett ~ Sonata in F minor, Op. 13
Chopin ~ Barcarole
Chopin ~ Ballade No.4
Beethoven ~ Sonata in C minor Op.13 (Pathetique)
Born in 1983, British pianist Simon Callaghan is in much demand internationally as a soloist and chamber musician. He continues to captivate audiences with his intelligent and compelling performances and his wide-ranging musical interests are earning him a reputation as a versatile and exciting young artist. Simon performed for the Club with the Emanuel Ensemble in 2008 and was invited at the time to return to give a solo recital. On that occasion he played a movement of the Sterndale Bennett Sonata.
"What a wonderful pianist, who combines complete understanding of the style of music he is playing with a rare subtlety and brilliance of execution." Sir Roger Norrington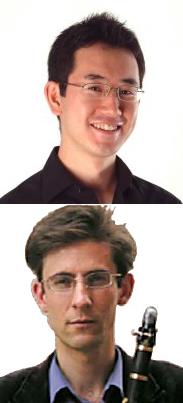 Saturday 6th February 2010 at 8.00pm
William Stafford ~ clarinet and
Hiroaki Takenouchi ~ piano
Finzi ~ Five Bagatelles
Brahms ~ Sonata Op. 120 No. 1
Saint Saens ~ Sonata
Bliss ~ Pastoral
Weber ~ Grand Duo Concertante
Hiroaki was born in Japan but came to London and the Royal College of Music in 1997. He received the RCM's The Queen Elizabeth The Queen Mother Rosebowl. With wide interests, including the core repertoire and contemporary music, he has appeared at festivals in Bath, Cheltenham, Husum and Salzburg.
William studied at Manchester University and the Royal Northern College of Music before embarking on post graduate study at The Royal College of Music. He has worked with leading London Orchestras and is principal clarinet with the Britten-Pears Orchestra.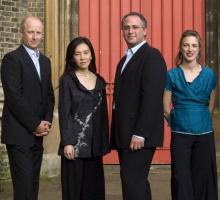 Saturday 27th February 2010 at 8.00 pm
Florilegium
Flute, violin, viola de gamba and harpsichord - musical director Ashley Solomon
Couperin ~ Suite "L'espagnole" from Les Nations
Handel ~ Trio Sonata in B minor
Purcell ~ Suite for Harpsichord
Vivaldi ~ Concerto in D major
Bach ~ Trio Sonata in E minor BWV 526
Marais ~ Le Sonnerie de Saint- Genevieve du Mont de Paris
Rebel ~ Fantasie No.8 in E minor, Les characters de la danse
We are delighted to welcome Florilegium to Little Chalfont for the first time. Regular performances in some of the world's most prestigious venues have confirmed Florilegium's status as one of Britain's most outstanding period instrument ensembles.
"Florilegium brought its customary finesse and tonal beauty to this enjoyable programme" The Strad
"Florilegium climbed the heights of dancing bliss and left the Wigmore sighing with pleasure." The Times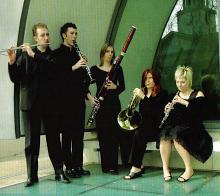 Saturday 27h March 2010 at 8.00pm
Camarilla Wind Ensemble
Flute, oboe, clarinet, bassoon and horn
Mozart ~ Fantasia in F minor K608
Nielsen ~ Quintet Op.43
Francaix ~ Quintette
Zemlinsky ~ Humoreske
Jenkins ~ Chums!
Camarilla currently holds the Leverhulme Junior Chamber Music Fellowship at the Royal Academy of Music, having played chamber music together since they began studies there in 1998. Individual members have performed extensively in the UK and internationally, working with the Royal Opera House and Royal Philharmonic Orchestra amongst others.
Camarilla particularly specialises in lesser-known works by British composers. This has led to the commission of a new work by Karl Jenkins which is included in their programme for this recital.
Trips: the Club's coach trip to Barbican Hall on 17 June to hear the LSO play Beethoven's Emperor Piano Concerto (pianist Paul Lewis) and Brahms Symphony No 3, conducted by Sir Colin Davis, is fully booked. Please contact the Membership Secretary if you would like to be placed on a waiting list.
 
We hope to arrange a coach trip to Milton Keynes Theatre in November to be the Glyndebourne Touring Opera Company perform Mozart's 'Cosi fan Tutte'. If you are interested in receiving details of this trip please contact the Membership Secretary.
The Club may, occasionally, need to vary artists, programmes or the venue, due to circumstances beyond the Club's control and reserves the right to do this. Details of any changes will be publicised on the website and locally, as far as possible.