PROGRAMME for
Concerts 2008-2009
Music on Saturdays at 8.00 pm
performed at Dr Challoners High School for Girls, Cokes Lane, Little Chalfont
HOME | MEMBERSHIP | TICKETS | VENUE | CONTACT | ARCHIVE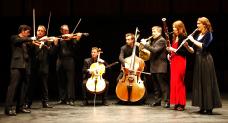 Saturday 18th October 2008 at 8pm
London Concertante Chamber Ensemble
Piano Quartet Movement ~ Mahler
Piano Quartet in C minor ~ Faure
Piano Quintet "Trout" ~ Schubert
Established 15 years ago, this ensemble is enjoying a successful season that includes two recent Wigmore Hall appearances and a tour of the USA in February 2008.
Due to the unusual combination of instruments in Schubert's Trout Quintet it is difficult to fit into most programmes - we believe this is the first time we have presented it at Amersham.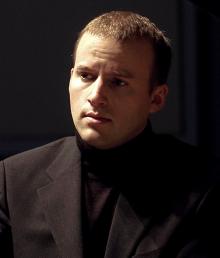 Saturday 29th November 2008 at 8.00 pm
Daniel de Borah piano
Rondo in G major, Op.51 No.2 ~ Beethoven
Fantasy in C, Op.17 ~ Schumann
Polonaise-Fantasie, Op.61 ~ Chopin
3 Etudes ~ Chopin
Op.10 No.10
Op.25 Nos2 & 5
Two Nocturnes, Op.62 ~ Chopin
Scherzo No.4 Op.54 ~ Chopin
The Young Concert Artists Trust promotes a select few artists who have started their performing careers.
For the past two years we have enjoyed recitals given by pianists promoted by the Trust as is Daniel de Borah who is playing a programme of music by Beethoven, Schumann and Chopin.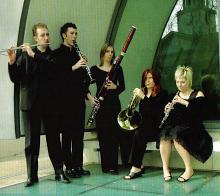 7th February 2009 at 8.00pm
This concert was cancelled.
We hope to rearrange the concert for a later date.
Camarilla Ensemble
David Cuthbert flute
Rosie Hillier oboe
Nick Ellis clarinet
Louise Chapman bassoon
Kate Goldsmith horn
La Forza del Destino, Overture ~ Verdi arr. Linckelmann
Quintet Op.43 ~ Nielson
Le tombeau de Couperin ~ Ravel arr.Jones
Dix-Sept Variations Op. 22 ~ J-M Damase
The members of this ensemble have played together since they entered the Royal Academy of Music in 1998. Former YCAT artists, they have a very extensive programme of recitals at Music Clubs and are also promoting contemporary British Wind Music under a Leverhume Fellowship at the Royal Academy of Music.
Victoria Simonsen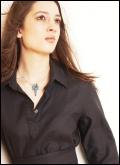 Saturday 28th February 2009 at 8.00pm
Victoria Simonsen cello
Sam Armstrong piano
Malinconia ~ Sibelius
Sonata No.3, in D major Op.102 No.2 ~ Beethoven
Sonata Op.19 ~ Rachmaninov
Born in Auckland, New Zealand Victoria moved to the UK in 2002 to study with Rloh Kirshbaum at the Royal Northern College of Music. Since graduating, her career as a soloist and chamber musician is developing rapidly and she has relinquished the position of principal cellist with Opera North, a position she held as a student!
Organised in collaboration with the Countess of Munster Musical Trust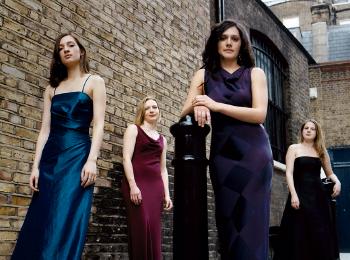 Saturday 28th March 2009 at 7.30 pm
The Barbirolli String Quartet
Katie Stillman and Rakhi Singh violins
Ella Brinch viola
Victoria Simonsen cello
Quartet No11,in F minor,Op.95 "Serioso" ~ Beethoven
Quartet in C minor, Op.51, No.1 ~ Brahms
Quartet in F major ~ Ravel
The four young players in this quartet come from different countries, where they had performed extensively, before going to the Royal Northern College of Music in 2003 when they formed this quartet. It was soon invited to become "Young Artists in Residence" at Salford. They have been promoted by the Countess of Munster Trust. They have performed throughout the UK and are to make their Purcell Room debut under the auspices of the Park Lane Group.
This concert is followed by the Club's biennial Supper
Milton Keynes Theatre to see the Glyndebourne Touring Opera Company's production of Bizet's Carmen
As well as it's annual series of recitals, the Club also arranges occasional coach trips to other music venues. These have included trips to hear the Glyndebourne Touring Opera perform Mozart's 'Marriage of Figaro', Rossini's 'Cinderella' and Donizetti's 'L'Elisir d'Amore'.
The Club may, occasionally, need to vary artists, programmes or the venue, due to circumstances beyond the Club's control and reserves the right to do this. Details of any changes will be publicised on the website and locally, as far as possible.
ACC is a member of Making Music and of the Chiltern Arts Forum.
The concerts are largely funded by ticket sales. The Club would like to record its thanks to individual donors; to the Countess of Munster Musical Trust for their support of one recital each year; to Steinways and to the Frost Partnership for help with publicity.
Registered charity number 1048911